Carrie Alexandra Coon is a renowned American actress who has garnered critical acclaim for her work in television. Her notable performances include playing the role of Nora Durst, a grieving mother, in the HBO drama series "The Leftovers" from 2014 to 2017, and the character of Gloria Burgle in the third season of the FX anthology series "Fargo" in 2017.
However, Coon's personal life is just as intriguing as her professional one. She is married to playwright and actor Tracy Letts, with whom she shares a strong and enduring bond. Both Coon and Letts have a deep love and appreciation for the theater, and their shared passion for the craft brought them together. Here in this post, we'll take a look at Coon's husband's profession as well as their marriage and children.
Meet Tracy S. Letts, Carrie Coon Husband
Carrie Coon is married to Tracy S. Letts, a celebrated American actor, screenwriter, and playwright. Letts has won several prestigious awards throughout his career, including the Pulitzer Prize for Drama and the Tony Award for Best Play for his production, August: Osage County, in 2007. He also won the Tony Award for Best Actor in a Play for his role as George in the revival of Who's Afraid of Virginia Woolf? in 2013.
Apart from his achievements on stage, Letts is also known for his acting roles. He played the character of Andrew Lockhart in the third and fourth seasons of Showtime's popular series, Homeland. He has also starred in three critically acclaimed films, namely, The Lovers, Lady Bird, and The Post. Furthermore, Letts portrayed the character of Henry Ford II in James Mangold's film, Ford v Ferrari.
Also read: Is Alison Wonderland Pregnant? Know About Her Boyfriend
When Did Tracy Letts and Carrie Coon Get Married?
Tracy Letts and Carrie Coon, who got married in September 2013, have been in a loving and committed relationship ever since.
Tracy shared with Vanity Fair that their wedding ceremony was an impromptu affair that took place in the hospital room where he was recovering from emergency gallbladder surgery. The couple had originally planned to have a courthouse wedding, but the plan was derailed when Letts experienced excruciating pain the night before the scheduled ceremony and had to be rushed to the emergency room.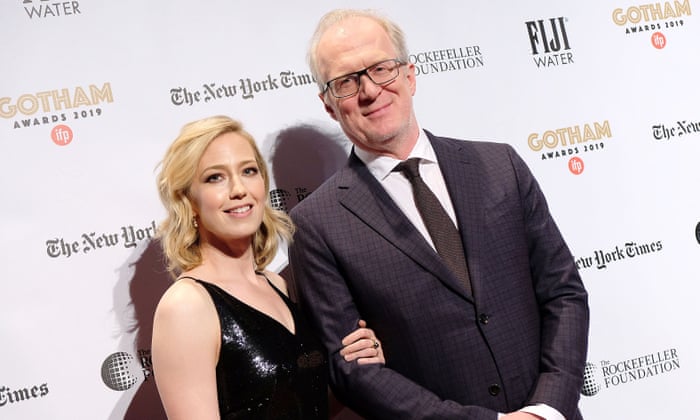 They exchanged their vows in a setting they never could have anticipated. Despite the unconventional location, Letts described the occasion as "lovely, intimate," and "personal."
Also read: Who Is Jon Knight's Wife? Meet His Partner, Harley Rodriguez
How Many Children Do Carrie And Tracy Have?
The talented couple is also blessed with two wonderful children.
In 2018, the couple, Coon and Letts, became parents for the first time with the birth of their son, Haskell. Recently, in 2021, they welcomed their second child. Interestingly, during the filming of "The Gilded Age," Coon was pregnant with their second child.