Cole Swindell may have just scored in the game of love.
The 39-year-old country singer seemed to confirm his new love on social media, which made the Internet buzz. The singer of "Single Saturday Night" wrote "#GameDate" on an Instagram photo of him and Courtney Little at an MLB game last year. Yes folks, Swindell, the country singer who tops the charts, has a new girlfriend. Her name is Courtney Little, and she used to dance in the NBA and was Miss Teen North Carolina in 2017.
In the middle of 2021, Courtney Little and Swindell went on their first official date, and things are getting serious. How serious you ask? Well, keep reading, but he says it's safe to assume that any love song he records will be about her for a while.
Who Is Cole Swindell's New Girlfriend Courtney Little?
Who exactly is this mysterious woman that Cole is so smitten with? To begin, you might recognize her from the music video for Cole's song "Some Habits".  The indisputable chemistry that they shown in the video is beginning to make a lot more sense now.
In an interview on The Bobby Bones Show, the Georgia native talked about their relationship and talked about how they met.
"We met quite a few years ago. I'm a big NASCAR fan, and she works for Monster. We met, exchanged phone numbers, and stayed in touch over the years, but we were never more than friends. I would see her here and there, but the video kind of changed everything," said Swindell.
He later explained that he was the one who asked her to be in the clip and that the video shoot was their first date.
"She lives in Charlotte, and the video for 'Some Habits' was about to be shot. I sent a text to my team saying, "Hey, shouldn't I be able to see the list of people we're choosing from for this video?" Swindell told Kelleigh Bannen on Apple Music Country's Today's Country Radio with Kelleigh Bannen.
Also read: Is Darius Rucker Dating Comedian Kate Quigley?
"I've got her on my mind. I'm like, 'She might not like that. Let's find out what to do. This song is very important to me. I kind of felt that way about her at the time, so I asked her, "Hey, would you be willing to come to Nashville and maybe be in the video?" "It will just be fun," he thought.
According to the account that she maintains on Instagram, Courtney is also the proprietor of an online apparel boutique known as The Little Sisters Boutique. This shop caters to fashionistas by providing items that are both "cute and inexpensive."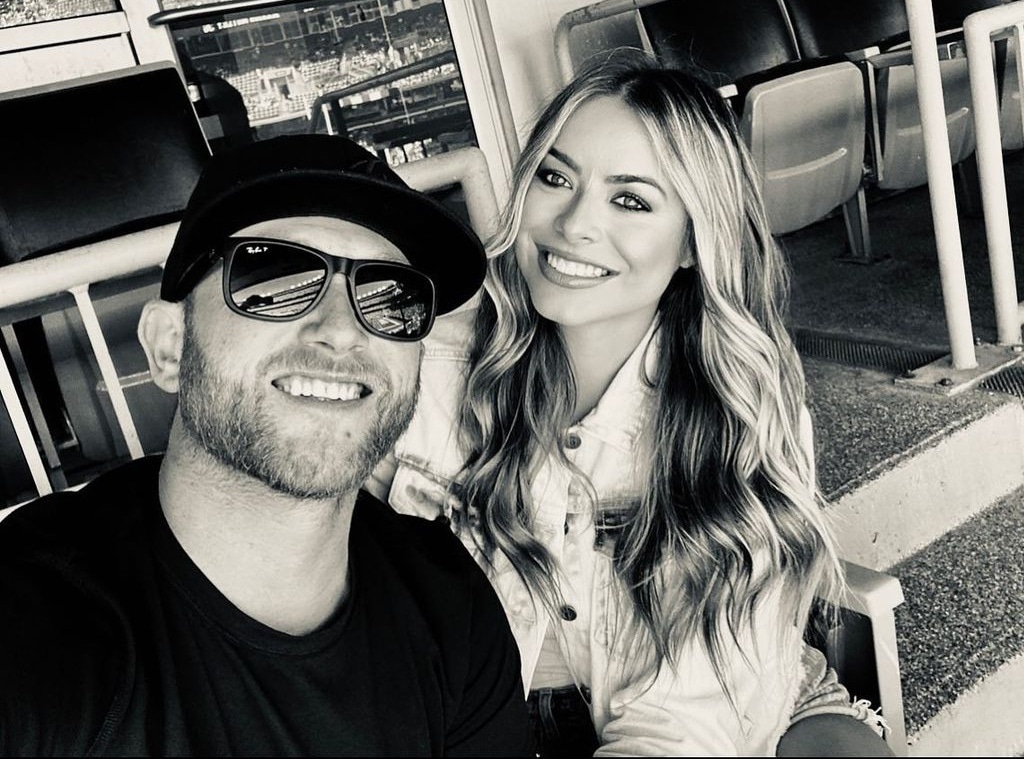 Previously, she had been recognized as the Miss Teen North Carolina titleholder. Courtney has demonstrated that she shares the same passion for sports as Cole by working as a dancer in the National Basketball Association for the Charlotte Hornets.
Also read: Most Expensive 1990s Divorce Of Ivana Trump And Donald Trump
Cole Swindell On Going To The CMT Music Awards With Girlfriend Courtney Little
Cole Swindell told ET's Nischelle Turner and Rachel Smith in Nashville earlier this year that when he takes his girlfriend Courtney Little to CMT Awards, it will be the first time she's ever been to an awards show.
The singer of "You Should Be Here" said, "I'm excited to take her." "She's never been to a ceremony to give awards." When asked to confirm that Courtney is his plus-one, Swindell gushed, "Oh yeah. Always."
Swindell also told ET that he and Courtney went on their first date while making his music video for "Some Habits." He had said before that he met her at a NASCAR event many years ago. Even though they traded phone numbers, they never really got to hang out, except for a few random meetings here and there. When it came time to choose his love interest for the "Some Habits" music video, Swindell was quick to invite Courtney.
When it comes to Courtney, Swindell can't help but go on and on about how much he loves her.
The singer of "Middle of a Memory" joked, "Way out of my league!" "I'm glad she can come with me and that I can celebrate this with someone. It's just a different feeling."