JoJo Siwa, the popular American singer, dancer, and YouTube personality has found herself at the center of a concerning rumor that has taken the internet by storm. Despite being openly gay and not currently in a relationship, rumors have spread rapidly across social media platforms that suggest the 19-year-old star is pregnant.
There appears to be widespread confusion on social media as many of JoJo Siwa's fans seem to have missed the humorous tone of her Instagram post. The rumors began on TikTok and have since snowballed, leaving many fans confused, speculating, and worried about the truth behind the rumors. Read on to know everything about the speculations of her pregnancy.
Jojo Siwa Is Not Pregnant: Rumors Debunked
JoJo, who is 19 years old, proudly shared a photo collage on her Instagram story where she displayed her bare belly without feeling any guilt about her love for food. In one of the photos, she was seen lying on her back with a slightly bulging stomach and asked her followers if they were "Team BOY or Team GIRL". Next to that photo was a sticker that read "Food Baby", and the other image in the collage showed JoJo with a toned tummy after a workout at the gym.
Despite the "Food Baby" sticker, JoJo is not pregnant and proves that it's possible to enjoy food while maintaining a healthy physique.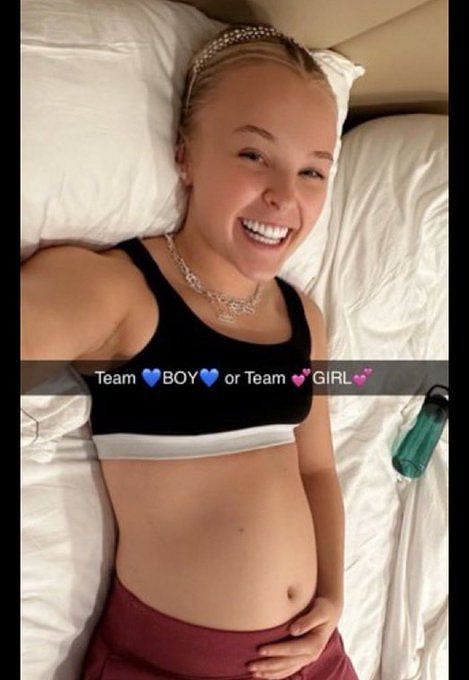 Also read: Who Is Angel Reese's Boyfriend? Relationship Rumors With NBA Youngboy
After rumors circulated that JoJo Siwa might be pregnant, she took to TikTok to set the record straight. Siwa confirmed that she is not pregnant and made a humorous comment that she received the news after completing her gymnastics routine. However, she clarified that the news was good and not related to pregnancy. Despite Siwa's clarification, the rumors continue to spread online.
How Disney World Played A Role In Siwa's Realization Of Her Sexuality
JoJo Siwa, the popular celebrity, recently shared how her visit to Disney World helped her discover her sexuality, saying, "I realized I was gay at Disney World." The 19-year-old stated in an interview with People that she has had significant personal growth experiences at Disney and that it was at the theme park where she fell in love for the very first time.
During her stay, she spent two weeks with a female friend and came to the realization that she had feelings for her. Siwa described how having those emotions while being in the most magical and happiest place on earth was an incredible experience, and although she and her friend are no longer together, they made some fun and joyful memories at Disney World.
Also read: Who Is Meghan King's Boyfriend? Is She Still Dating Kenny?
Disney has been in the news recently for standing up for LGBTQ+ rights, while Florida Governor Ron DeSantis has criticized the company and its support of the community. Siwa, who publicly came out in early 2021, has become a vocal advocate for LGBTQ+ rights, using her massive fan base to inspire and influence young people.