Vanessa Trump filed for divorce from Donald Trump Jr. in March 2018, but there was no fight about it. The divorce was finalized by the end of the year after a custody dispute was settled in July.
Vanessa Trump has stayed out of the public eye since her divorce from Donald Trump Jr. in 2018. She hasn't given any interviews or made any public appearances.
She has tried to stay out of the spotlight, but recently her name has been popping up all over the internet again. In this article, we'll look at everything there is to know about her, including her current relationship status.
Everything You Need To Know About Vanessa Trump
Vanessa Trump used to be a model in the United States. She grew up in a townhouse on Manhattan's Upper East Side and went to The Dwight School, a private school.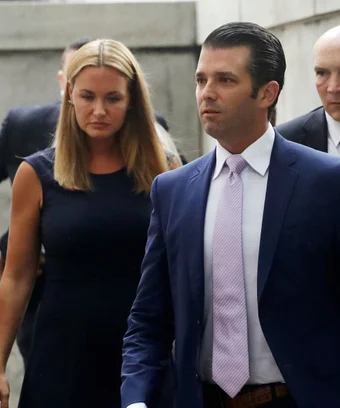 The New York Times reported in 2006 that she started modeling as a child and signed with Wilhelmina. At the time, Vanessa's mother ran a modeling agency.
Vanessa had a small role in the romantic comedy Something's Gotta Give, which starred Diane Keaton and Jack Nicholson, in 2003.
In the same year, she met Donald Trump Jr. backstage at a fashion show.
In 2005, they got married at the Mar-a-Lago club in Florida. Before the wedding, Donald Trump Jr. gave her a $100,000 ring and asked her to marry him.
Also read: Are Christen Press and Tobin Heath Dating?
Vanessa Trump's Alleged Relationship With Secret Service Agent
Vanessa Trump, who used to be married to Donald Trump Jr. came to the realization that she didn't have to spend the rest of her life with someone whose own father is said to have said that he is "not the sharpest knife in the drawer" and "has the worst judgment of anyone in the world." But Carol D. Leonnig, an investigative journalist who won the Pulitzer Prize, says that Vanessa did find love in the White House while Trump was president. She did so with — wait for it — a Secret Service agent.
The book talks about how Secret Service agents aren't allowed to get close to the people they're supposed to protect because their feelings might make them make bad decisions.
The Guardian got a copy of the book and found that Vanessa Trump had begun dating one of the agents who had been assigned to her family.
It's not clear when she started dating the agent, but Leonning wrote that the agent didn't get in trouble because neither he nor the agency was Vanessa Trump's official guardian at the time.
Vanessa wasn't the only Trump family member to get close to an agent. According to Leonnig, Secret Service leaders became worried when Tiffany Trump "started spending an unusual amount of time alone with a Secret Service agent on her detail."
The book says that around that time, Tiffany, Donald Trump's daughter with his second wife, Marla Maples, had broken up with her boyfriend.
Also read: Who Is Grant Williams' Girlfriend? Current Relationship Status
Does Vanessa Trump Have A Boyfriend?
Vanessa Trump has done a great job at hiding who she is dating or even if she has a boyfriend in 2022 or not.
Since she broke up with Donald Trump Jr. in 2018, not much is known about her current love life. Vanessa has chosen to stay out of the spotlight, so she doesn't do interviews or make public appearances.
Prince Khalid bin Bandar bin Sultan Al Saud, a Saudi diplomat, was her boyfriend before she met her ex-husband. From 1998 to 2001, they were together.