Jennifer Odessa Nettles, an American artist, has made her mark as a singer, songwriter, actress, and record producer. She is widely recognized as the lead vocalist of Sugarland, a duo that she formed with Kristian Bush. Before joining forces with Bush, she led Atlanta-based musical groups such as Soul Miner's Daughter and Jennifer Nettles Band.
Having established herself as a prominent figure in the music industry, Jennifer has garnered multiple honors and awards. Her impressive list of achievements includes three Grammy Awards, four Country Music Association Awards, and an American Music Award.
Despite her professional achievements, Jennifer Nettles tied the knot with Todd Van Sickle in 1998, but their marriage ended in divorce in 2007. She later got into a romantic relationship with Justin Miller, and after dating for two years, the couple got married.
If you are curious to know more about everything about her personal life, then this article is for you. In this post, we'll cover all the details regarding her marriage including her husband and children.
How Did Jennifer Nettles Meet Her Husband Justin Miller?
Jennifer Nettles first met Justin Miller while working on the music video for Sugarland's song "Want To." Interestingly, the two were cast as lovers in the video and even shared a bed on camera. Miller, a former model, played the role of the dashing and charming boyfriend, and his ruggedly handsome looks and scruffy beard suited the part perfectly. However, it wasn't until years later that Nettles and Miller started a romantic relationship. At the time the video was made, Nettles was married to Todd Van Sickle.
In 2009, Jennifer Nettles crossed paths with Justin Miller, who was not only an entrepreneur but also had a background in modeling.
When Did Jennifer And Justin Get Married?
Jennifer and Justin exchanged their wedding vows on November 26, 2011, after being in a relationship for a number of years. The couple chose a serene sunset ceremony at Blackberry Farm in eastern Tennessee.
After their wedding, Jennifer Nettles and Justin Miller were unable to embark on their honeymoon right away due to her busy schedule. She had prior work commitments, which included a performance with Lady Gaga at the Grammy Nomination Concert Live, and hosting the annual CMA Country Christmas special. As a result, the couple had to postpone their honeymoon for a later date.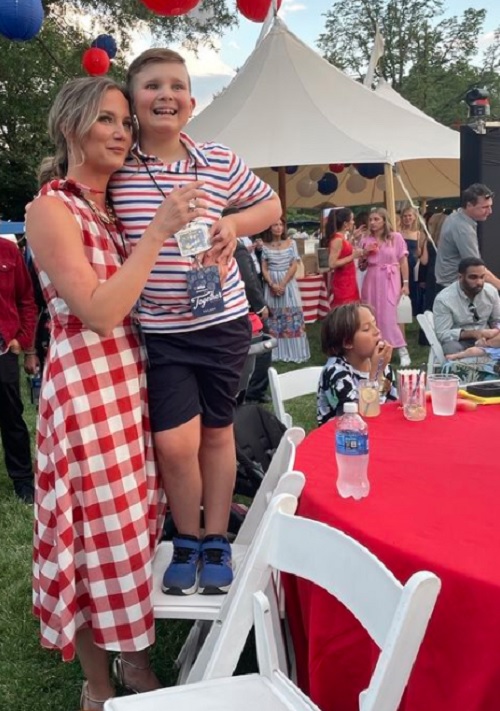 Jennifer Nettles and Justin Miller revealed on June 18, 2012, that they were expecting their first child together. Later that year, in December, the couple welcomed their newborn son, Magnus Hamilton Miller, into the world. As of now, Magnus is 10 years old, and Nettles and Miller have been happily married for 11 years.