Jessica Pegula is displaying a high level of confidence as she aims to achieve her first Grand Slam victory in Melbourne. Her strong performance at the United Cup and the USA's win has boosted her morale.
Jessica Pegula is a highly accomplished American tennis player. She has achieved her highest-ever rankings in both singles and doubles, reaching world No. 3 in October 2022. Throughout her career, she has won numerous titles on the WTA Tour, including two singles titles and five doubles titles.
As we delve deeper into her personal life, it's worth mentioning that in the year 2021, Pegula embarked on a new chapter in her life as she wed Taylor Gahagen, a corporate executive at Pegula Sports and Entertainment and a passionate animal philanthropist. Continue reading to uncover all the intricate details of Jessica and Taylor's relationship.
Know About Taylor Gahagen, Jessica Pegula's Husband
Taylor Gahagen's connection to the Pegula family has a long history. He is a senior investment analyst, who reportedly previously worked at Pegula Sports and Entertainment, a company owned by Jessica's parents Terry and Kim Pegula. They are also the proprietors of the NFL team Buffalo Bills. Gahagen has held key roles in corporate development and brand strategy, and then he joined the marketing team of Pegula's NHL team, the Buffalo Sabres.
Alongside his wife Jessica Pegula, Taylor Gagahen is an advocate for animal welfare as the co-founder of "A Lending Paw", an organization that aids rescue dogs by providing support and facilitating their adoption into loving homes.
Also read: Who Is Kirk Cousins' Wife? Know Everything About Their Relationship
Taylor Galhagen holds an MBA from Canisius College and a BSBA (Bachelor Of Science In business administration) from the State University of New York at Fredonia.
How Jessica And Taylor Met And When They Got Married?
The beginning of Jessica and Taylor's romance may be shrouded in mystery, but it is widely believed that the couple first sparked a romance in 2015. Their first public appearance together can be seen in a photo on Jessica's Instagram, showing the couple dressed as Clark Kent and a vampire, possibly from a costume party, dating back to November 2015. The details surrounding how they met remain a secret, but it is clear that they share a strong bond, as well as their love for animals.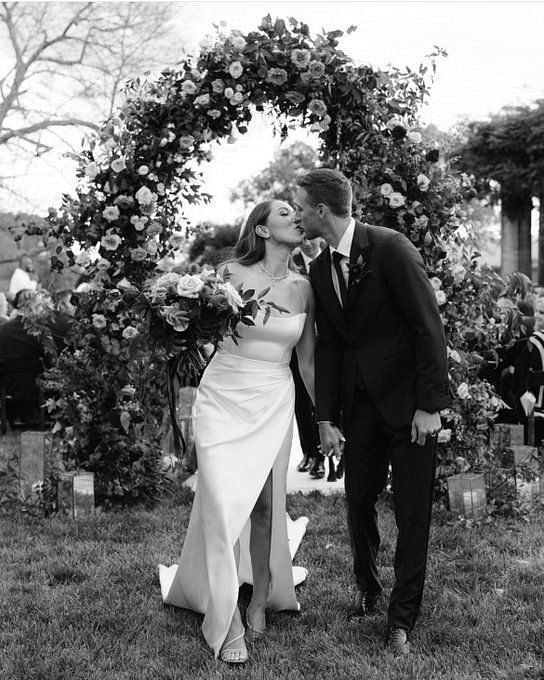 In a private ceremony at the picturesque Biltmore Estate in North Carolina, Jessica and Taylor exchanged vows in October 2021. Only their closest loved ones were in attendance, including several members of the Women's Tennis Association. The wedding was kept intimate and exclusive, showcasing the couple's deep commitment to each other.
Also read: Meet Jeff Bridges' Wife, Susan Geston As He Receives The Lifetime Achievement Award
What Is Jessica Pegula's Net Worth?
Jessica Pegula, a well-off American professional tennis player, holds a net worth of $10 million, according to Celebrity Net Worth. She has accumulated this sum through her impressive performance in various tournaments, earning more than $5 million in prize money. Additionally, she's reached the summit of her profession by reaching the peak of #7 in the world rankings.
Jessica is the daughter of two billionaires, Terry Pegula and Kim Pegula. The Pegulas are most well-known for owning the Buffalo Bills and Buffalo Sabres professional sports teams via their holding company, Pegula Sports.