Sophie Grégoire Trudeau, the wife of Canadian Prime Minister Justin Trudeau, has long been a source of fascination for the Canadian public. From their childhood friendship to their fairytale wedding, Sophie's presence has added a touch of elegance to the political landscape. However, recent events have brought their relationship into the spotlight once again.
In a heartfelt social media post, the couple announced their separation after 18 years of marriage. This revelation has shed light on the challenges they have faced, their commitment to their family, and the enduring bond they share. In this article, we delve into the life of Sophie Grégoire Trudeau, her impact on Canadian society, and how love and resilience have defined her journey amidst separation.
How Did Sophie And Justin's Love Story Begin?
Sophie and Justin's love story began long before they became a couple. As childhood friends, Sophie had a crush on Justin's youngest brother, Michel, and spent many happy hours at the Trudeau home. However, fate had different plans for them, and their paths crossed again as adults at a fundraising event in 2003. Although Justin was hesitant about starting a serious relationship at the time, destiny brought them together, and they went on their first date at a karaoke bar, singing Elton John and Beatles songs.
Also Read: Damaris Phillips' Weight Loss: Know About Her Transformation
Know About Sophie And Justin's Fairytale Proposal And Beautiful Wedding
On what would have been the late Pierre Trudeau's 85th birthday, Justin surprised Sophie with a romantic proposal. They visited the Trudeau family tomb in Saint-Rémi-de-Napierville, Quebec, and later enjoyed spa treatments at a luxury hotel. Candles, rose petals, and an air of magic surrounded the proposal, making Sophie feel like a princess.
The couple tied the knot on May 28, 2005, in a traditional Catholic ceremony at Sainte-Madeleine d'Outremont Church in Montreal. The wedding was an intimate affair with family and close friends, eschewing the typical pomp and circumstance associated with political weddings. Their reception featured a live band, a DJ, and a delectable meal that reflected their preference for simplicity and elegance.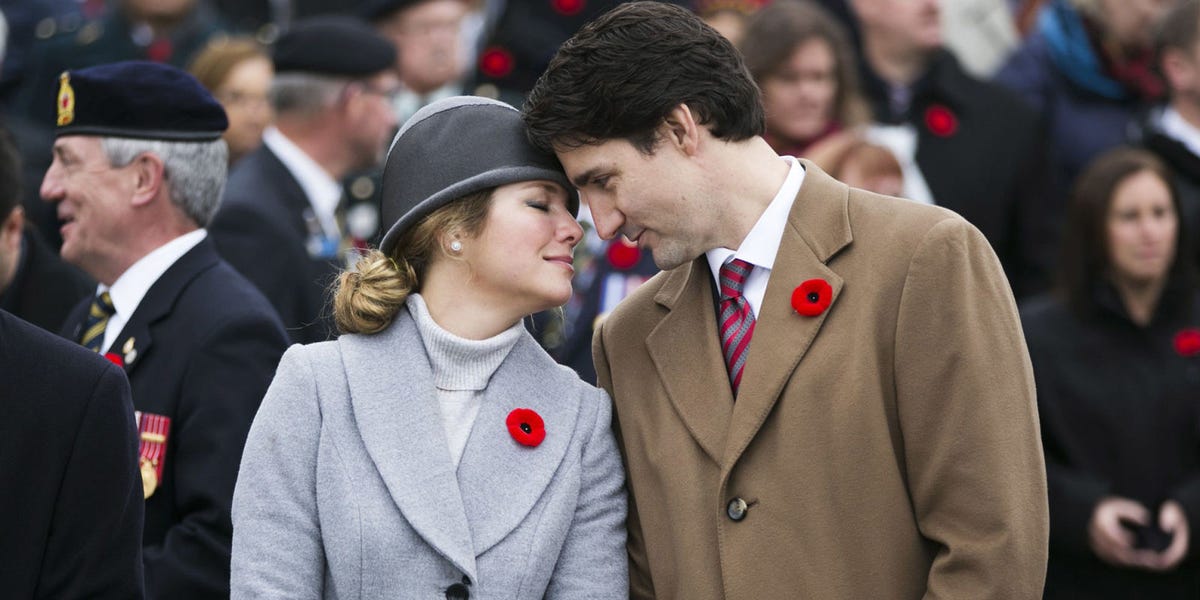 The Couple Has Three Kids
Sophie and Justin's union has been blessed with three children: sons Xavier James and Hadrien Grégoire, and daughter Ella-Grace. Although Sophie initially hesitated about having three children, she embraced motherhood with love and dedication. The Trudeau family has been an essential part of Justin's political journey, providing him with unwavering support through the ups and downs of public office.
Also Read: Nancy Pelosi's Plastic Surgery: Unveiling The Ageless Facade Of The Political Icon
Meet Sophie Grégoire Trudeau: The Entertainer And Philanthropist
Beyond being a devoted wife and mother, Sophie Grégoire Trudeau has made a name for herself in the entertainment industry. Fluent in French, English, and Spanish, Sophie embarked on a career in advertising before following her true calling in radio and television. She worked as an entertainment reporter for CTV's eTalk, showcasing her flair for communication and her love for the arts.
Sophie's philanthropic endeavors have also left a mark on Canadian society. She served as a personal shopper for luxury store Holt Renfrew and engaged actively with charitable organizations. Her passion for promoting wellness and self-awareness has led her to author two upcoming books: "Closer Together: Knowing Ourselves, Loving Each Other" and a children's picture book, set to be published in 2024 and 2025, respectively.
Sophie And Justin Trudeau Announced Their Separation
As with any marriage, Sophie and Justin Trudeau have faced their share of challenges. In August 2023, after 18 years of marriage, the couple announced their separation through social media posts. Despite their decision to part ways, they emphasized their continued love and respect for each other and their commitment to raising their children as a close-knit family.