NBA player Kendrick Melvin Nunn was born in the United States on August 3, 1995. He now plays for the Los Angeles Lakers.
Due to his subpar performance, Kendrick is currently trending on Twitter. People are questioning his role on the team and labeling him one of the worst players.
Twitter user @casualtakeking tweeted, "I mean this with all due respect Kendrick Nunn is the worst player I've ever seen".
Right now, Twitter is flooded with individuals who feel the same way about him, but we have faith that he will be able to turn things around in the future.
This article will talk about Kendrick Nunn's net worth and girlfriend since many of his followers are now interested in learning about his personal life as well.
Who Is Kendrick Nunn's Girlfriend Blen Kiya?
Blen Kiya, the girlfriend of NBA player Kendrick Nunn, made headlines last year when she allegedly made threats to a prostitute who claimed Nunn is the father of her child. The duo has been dating for almost two years now.
Nunn and Kiya recently welcomed their first child together, a girl. Blen Kiya, whose Instagram handle is @blen kiya, has over 39.8k followers and she keeps her followers updated with glimpses from her life, her Instagram bio reads, "Political Candidate".
Recently, celebrity gossip account WagsUnfiltered reported that Kendrick Nunn allegedly tried to flirt with a woman other than Blen Kiya. Instead of confronting her partner, Kiya slid into his mistress's direct messages to hurl insults and make threats.
Also read: Meet Franco Harris' Wife And Son: Hall Of Fame RB Dies At 72
Blen Kiya: I'm trying to figure out why you're talking to my goddamn man. I already warned you bitch. I'm not playing with you, and the fact that I have a baby doesn't change that. I will smash you. You're ugly and all over. You want so badly to be his mistress. You look like a puffer fish. Find yourself a guy.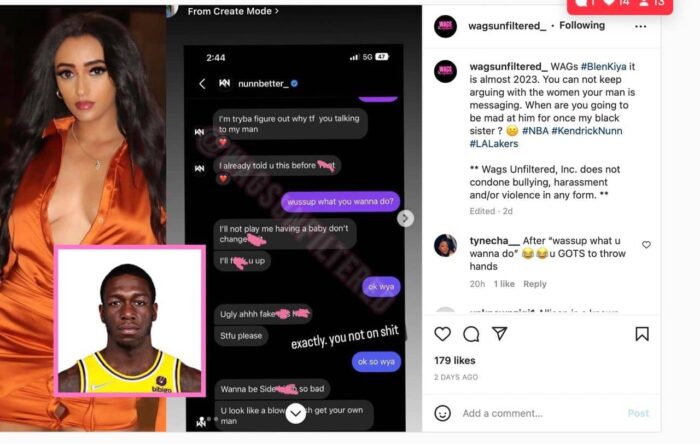 Allison Contreras, the woman Nunn was allegedly talking to replied, "I never touched this man. Blen, I'm doing you a favor by putting winds to your « man » and in return, you come cracking up in my DM's. You both suck.
What Is Kendrick Nunn's Net Worth?
Kendrick Nunn's net worth in 2022 is $9 million as estimated by various media outlets, Nunn didn't make much money in the NBA G League, but after his impressive NBA debut, he started getting paid more.
After not being picked in the draft in 2018, he played in the NBA G League and then joined the Miami Heats in 2019. Notable as a prospect, he made the rookie first team in 2020 and played for the U.S. in FIBA U16 and U17 tournaments.
Also read: Who is Salt Bae and why was he Ignored By Messi? Also, Know The Chef's Net Worth
Estimates of Kendrick Nunn's net worth are based on his NBA salaries and endorsements, but there is no way to know for sure if they are correct.