Kevin Michael Costner is an American actor, producer, movie director, and musician. He has won a number of awards, including two Academy Awards, two Golden Globe Awards, a Primetime Emmy Award, and two Screen Actors Guild Awards.
Talking about his personal life, Kevin is married to Christine Baumgartner, who is 48 years old and has helped him a lot with his acting career. Kevin is also a father of seven children, and he has been in a number of high-profile relationships.
Previously, Costner has been married twice. In 1975, when Costner was in college, he started dating a fellow student named Cindy Silva. Three years later, they got married. During their marriage, they had three children. The couple got a divorce in 1994, after being married for 16 years. He has a son, Liam Timothy, born in 1996, with Bridget Rooney, with whom he had a short relationship after his divorce. He then dated political activist Birgit Cunningham.
On September 25, 2004, Costner married his girlfriend of four years, the model and handbag designer Christine Baumgartner, at his ranch in Aspen, Colorado. Read on to know everything about Kevin Costner's current wife and their relationship details.
Also read: Know About Jane Pauley's Married Life With Husband Garry Trudeau
Meet Christine Baumgartner, Kevin Costner's Wife: When They Got Married
Baumgartner is no stranger to being in the spotlight. But she also has experience on the big screen. She's appeared on shows like Inside Edition, Entertainment Tonight, and E! Live from the Red Carpet. She makes handbags under the label Cat Bag Couture. These bags are sold in shops near the couple's 160-acre ranch in Aspen, Colorado. She got a degree in business from California State University in Fullerton.
She told the Denver Post in 2005 how she got started on her way to becoming a handbag designer. "When I showed Kevin some samples, he said they were beautiful and amazing," she said. "He told me to do the next thing and that he would help me. I've always loved fashion and style, and it's great if you can combine the two."
Baumgartner and Costner had a fairytale wedding in 2004. The ceremony took place on Costner's 160-acre Aspen property, The Dunbar. PEOPLE said that while the actor walked up in a horse-drawn carriage, Baumgartner drove up in a vintage green pickup.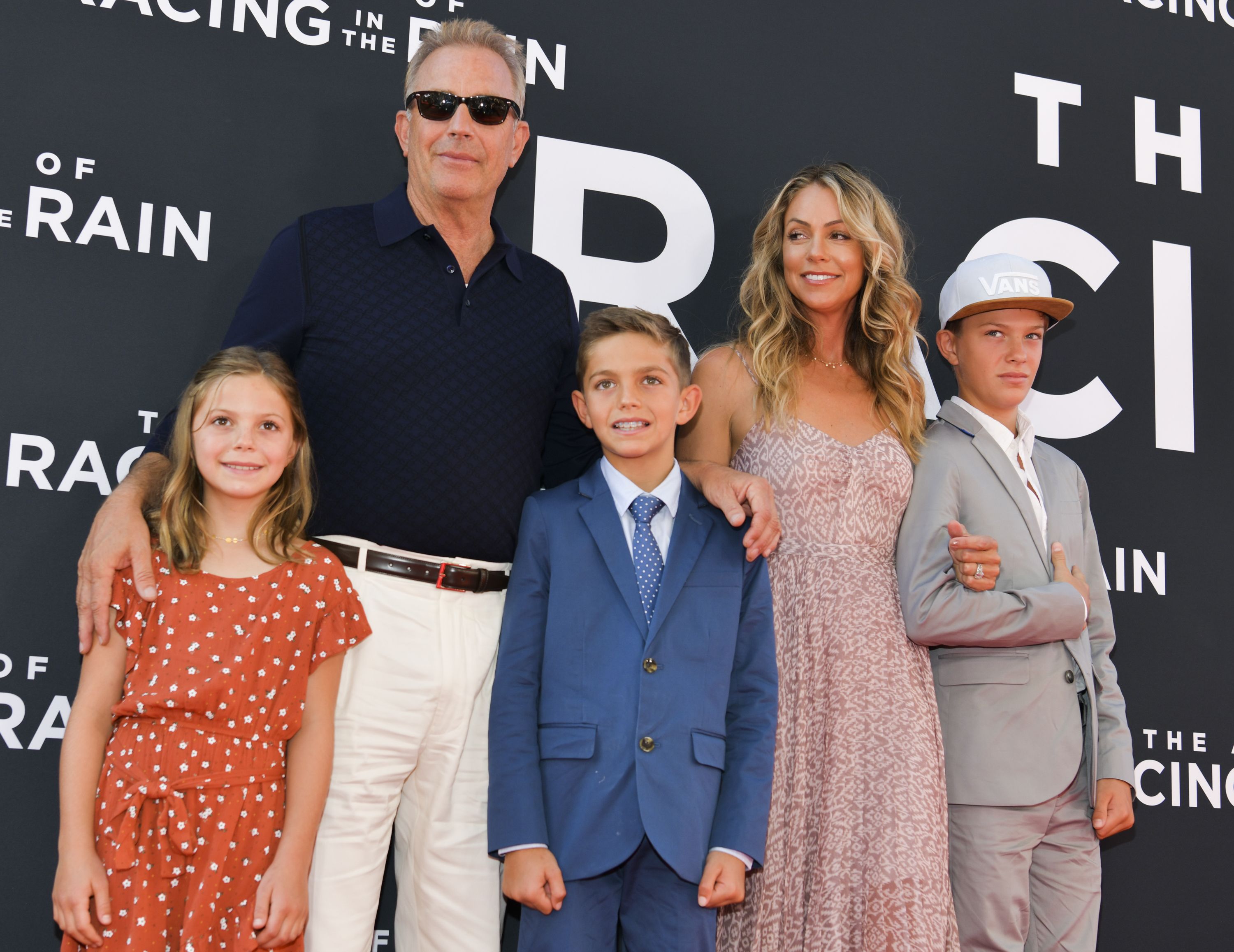 Also read: All You Need To Know About Anne Burrell's Husband And Their Relationship!
How Many Children Do Kevin And Baumgartner Have?
Baumgartner had their first child, a son named Cayden Wyatt, three years after she and Costner tied the knot. This was followed by the births of another son, Hayes Logan, and a girl, Grace Avery. Liam, who was born to Costner and Rooney, and Joe, Lily, and Annie were born to Costner and Silva, making Baumgartner a stepmother to all five of Costner's children.