Robin Roberts is an American television reporter. Roberts is the host of ABC's Good Morning America. Roberts was the only woman of color and the first openly LGBT woman to host the American game show Jeopardy. In 2012, Roberts was put in the Women's Basketball Hall of Fame. The program told about her treatment for myelodysplastic syndrome, which won a Peabody Award in 2012.
Recently on Monday's show, Robin Roberts said that she is getting married this year. Roberts is getting married to her longtime girlfriend, San Francisco massage therapist Amber Laign. She revealed to the world her relationship with Laign for the first time in 2013 in a Facebook post about Roberts's recovery from cancer.
Roberts announced the news during a segment with author Gabby Bernstein where they talked about "saying yes" and Bernstein's book, "Super Attractor: Methods for Manifesting a Life Beyond Your Wildest Dreams."
Bernstein asked Roberts what she was going to say yes to in the next year. "I'm saying yes to marriage. We are getting married this year," Roberts said. She said that she and Laign had talked about getting married but put it off because Laign was sick at one point.
Read on to know everything about Robin and Amber's relationship.
Also read: Know About Kevin Costner's Wife And Their Relationship!
Know About Robin Roberts Wife, Amber Laign: Inside Their Relationship
Amber is more than simply Robin's girlfriend. She's also a successful businesswoman. The blonde bombshell is a massage therapist and the founder of Plant Juice Oils, an essential oils brand. "Natural products for busy women who want to take control of their health for their wellness," says the company's Instagram bio.
On February 24, 2022, Robin posted on social media to share some very heartbreaking news with her fans. "My sweet Amber asked me to tell you something that she's been going through. At the end of last year, Amber was told she had breast cancer," the former ESPN sportscaster said. "She had surgery last month, and this morning she will start chemotherapy."
Robin went on to say, "The prognosis is good," and she thanked their family and close friends for keeping her partner's cancer fight a secret. She also said that she would be taking time off from GMA to be with Amber during her treatment.
"She and I have been together for almost 17 years, and we've helped each other through our problems, like my journey with cancer," the author of From the Heart said. "It's my turn to be there for her like she was for me."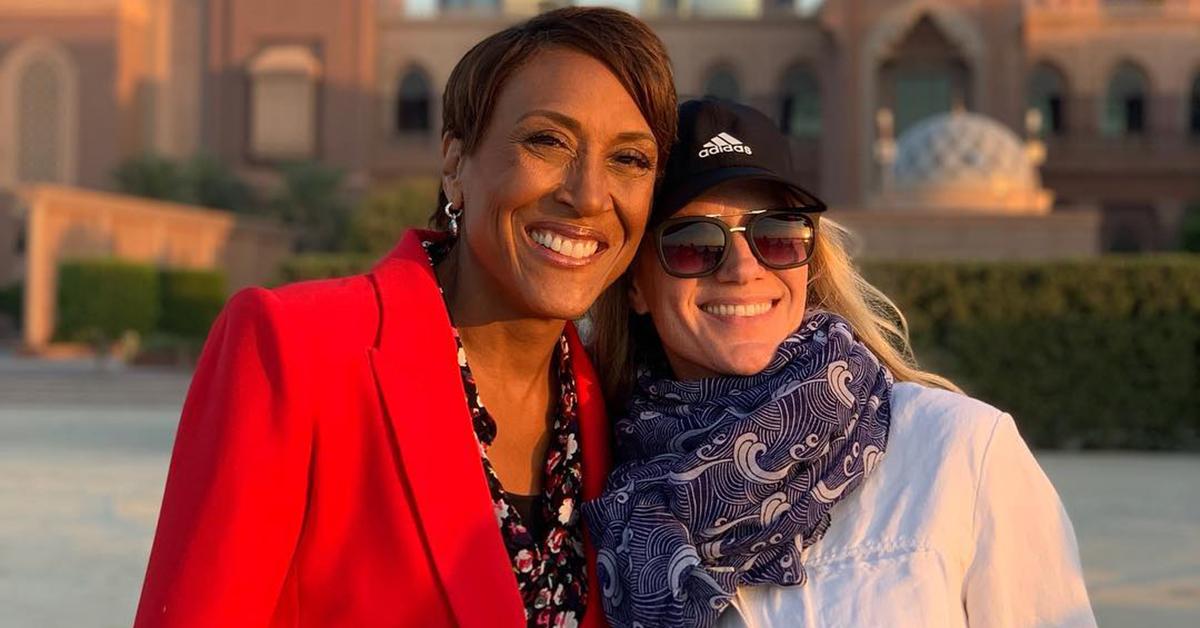 Also read: Know About Jane Pauley's Married Life With Husband Garry Trudeau
In July 2022, Robin posted on Instagram that Amber had finished radiation. She rang the bell at the hospital to mark the occasion. "Sweet Amber is done with radiation, a very important part of her treatment!" the TV host wrote in her caption. "We both want to thank you for all your well wishes and prayers."