After Kurt Angle won a historic gold medal at the Olympics, he became a big name in the wrestling world. Even though his neck was broken, he won a gold medal and made a lot of great memories in professional wrestling. Over the years, Kurt Angle became a legend in pro wrestling. Now that he is retired, he works hard at his nutrition business and spends time with his family. In this article, You'll read about Kart's family including his wife, Giovanna Yannott.
Meet Kurt Angle's Wife, Giovanna Yannott
Kurt Angle has had two marriages. Giovanna Yannotti is his second wife and the person he is married to right now. Giovanna was born in the Pennsylvania city of Pittsburgh. Giovanna is a well-known model and actress. She quit the University of Pittsburgh to pursue a career as an actress and model.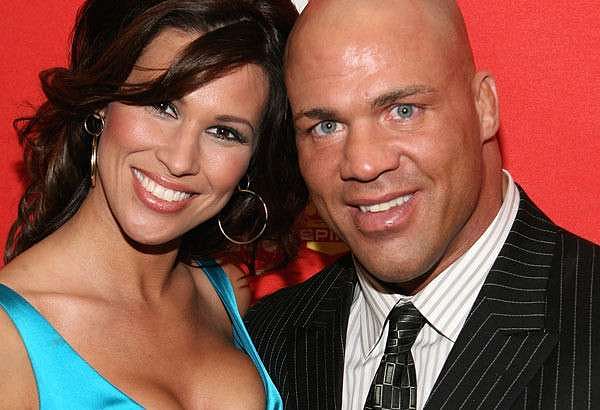 Giovanna has been in movies like "End Game," "The Twilight Saga: New Moon," and "Sorority Row," which are all well-known. She also showed up on TV a couple of times. Rosario Dawson has used Giovanna as a stand-in and photo double.
Also Read: Know About Sheena Melwani's Husband, Dinesh Melwani!
Inside Kurt And Giovanna's Relationship
According to Heavy, Kurt Angle and Giovanna Yannotti met on the set of the movie End Game, which came out in 2009. In the movie, Angle plays a murderer who steals the daughter of a police officer. Yannotti played "Customer at Restaurant," a small part of the movie.
In an interview with Vince Russo, Giovanna Yannotti said that she thinks it was fate that she and Kurt Angle met. She says that she only did the movie End Game because her best friend's dad called her at the last minute and said he needed an extra on set. "Then Kurt walked in with his big blue eyes," she said. "He was so cute… I thought, "I have to have him."
Kurt Angle asked Giovanna Yannotti out after a while, and they went to Arby's for their first date. On July 20, 2012, Giovanna and Kurt got married. This is the second marriage for Kurt Angle. The age difference between Kurt and Giovanna is 18 years. Giovanna Yannotti is 30 and Kurt Angle is 48.
Also Read: Who Is Luka Modric's Wife? Know About Vanja Bosnic!
Details About Kurt And Giovanna's Kids
On January 22nd, 2011, Kurt Angle and Giovanna Yannotti had their first child together. Giuliana Marie Angle was born about a year before Kurt and Giovanna's wedding; the wedding was originally planned for 2011, but they pushed it back when Giovanna found out she was pregnant. A few months after the wedding, they had their second child: Sophia Laine Angle was born on December 31st, 2012. Finally, they had their third child Nikoletta Sky Angle'who was born on November 5th, 2016.
Kurt Was Previously Married To Karen Smedley
Kurt Angle and Karen Smedley got married in 1998, which was also Angle's first year with the WWF. They had a daughter named Kyra and a son named Kody. In 2008 they split up. in 2010, Karen got married to Jeff Jarrett.