Lauryn Noelle Hill is an American singer, writer, rapper, and record producer. She is often considered to be one of the best rappers of all time and one of the most influential musicians of her generation.
She pleaded guilty to not paying taxes in 2012 and went to prison for three months the following year. Hill may have kept her private life under wraps for years, but her kids aren't shy about sharing details about their lives on social media. This has given fans a glimpse into their lives and a chance to see what they've been up to lately.
In case you didn't know, Hill was previously in a relationship with Rohan Marley and also had kids with him. In this post, we'll talk all about her relationship and children.
Does Lauryn Hill Have A Husband: Is She Married?
As of now, it appears that Lauryn Hill is currently single or unmarried. However, she was previously in a relationship. Continue reading to know in detail.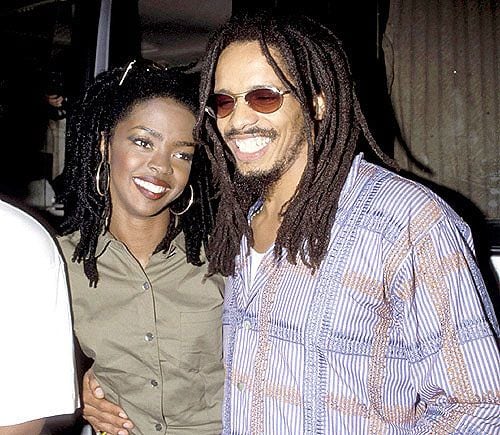 In 1996, Lauryn began dating Rohan Marley, the son of reggae icon Bob Marley and a successful entrepreneur. Rohan, now 50 years old, played American football and co-founded the organic farming enterprise Marley Coffee in 2009. Before their 2009 divorce, they welcomed five children: Zion David, Selah Louise, Joshua Omaru, John Nesta, and Sarah. The father of Micah, her sixth child, is unknown to the public.
Also read: Who Is Dick Cavett's Wife? Everything You Need To Know
Everything You Need To Know About Lauryn Hill's Children
Zion Marley
Lauryn and Rohan oldest son, Zion Marley, is the subject of Lauryn Hill's song "To Zion," which is on her first album, "The Miseducation of Lauryn Hill." He is the most well-known of their children because of an intimate song that became a hit in the 1990s. Zion is a good father to his young son Zephaniah now. In 2017, he welcomed him into the world.
Selah Louise Marley
Selah Louise Marley has been making a name for herself in the modeling world. Selah is a full-time model, and some of her most famous work includes being the face of Beyonce's Ivy Park campaign and the lookbook for the luxury brand Miu Miu. She knows that she was always going to follow in her mom's footsteps because it's in her DNA.
Joshua Omaru Marley
Joshua does everything he can to stay out of the spotlight. Even though he has kept it quiet, he loves music like his parents do and has tried rapping. Even though he hasn't turned his skills into a career, he has a personal SoundCloud account where he posts his songs.
John Nesta Marley
John Nesta Marley was born in Jamaica in 2003. The same as his siblings, his beginnings have also gotten him some modeling jobs. Last year, he modeled for the spring collection of the menswear line "The Brooklyn Circus."
Also read: Who Is Tulsi Gabbard's Husband? All You Need To Know!
Sarah Marley
Sarah Marley, the couple's youngest daughter, was born shortly before their divorce. She would frequently accompany her mother for her performances, including one at the Eko Hotel & Suites in Nigeria in 2015. She appeared on stage during the event and really stole the show. Given her talent for singing and performing, it will be intriguing to see if Sarah will carry on her mother's and grandfather's musical heritage.
Micah: Hill's Sixth Child
Micah is Lauryn Hill's sixth child. He was born in 2011. The identity of Micah's father is not known. On July 24, 2022, Hill shared a post on her Instagram for his son's birthday and wrote a beautiful caption.