Ever since Maddie Ziegler moved on from Dance Moms to bigger and better things (like being Sia's muse and starring in The Fallout), we've all been a little bit curious about her life. On that note, one of the major curiosities fans have about Maddie's life is her relationship status.
Fans have been trying to find out more about Maddie Ziegler's boyfriend Eddie Benjamin ever since she posted a picture of the two of them together. After being in a very public relationship before, the former reality TV star has kept her current relationship pretty quiet until now. So, Maddie's fans were definitely shocked when she posted the photo of them engaged in full-on PDA.
They started dating in 2019, but it wasn't until March of 2020 that they went public with their relationship. Since then, their undeniable passion for one another has been plain to see.
Join us in gushing about how cute it is that she is with musician Eddie Benjamin, and take a look at their relationship.
Maddie Ziegler Talks About Her Boyfriend Eddie Benjamin: "It's Really the Best"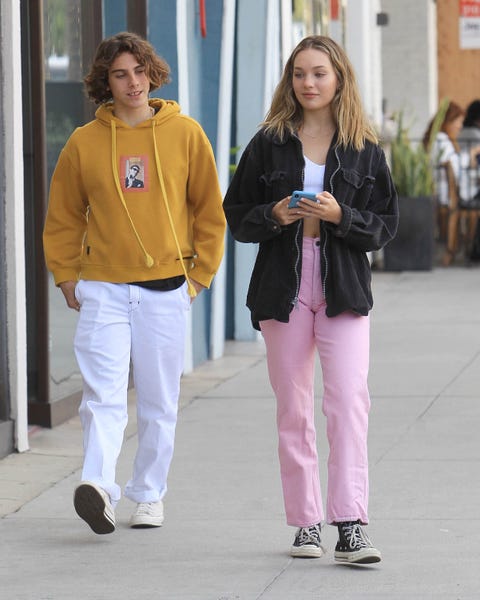 In an interview with Entertainment Tonight, the 19-year-old Dance Moms star called their budding relationship "the best."
Also read: Who Is Eric Hosmer's Girlfriend? Expecting First Child With Kacie McDonnell
"Every day I get to date him makes me very happy," Ziegler said. "We have so much fun together, and we were friends for a long time before we started dating. It feels like I spend every day with my best friend. It's a lot of fun. It really is the best. I love it."
Being able to relate to each other's work has helped Ziegler and Benjamin, who is 21, become even closer.
The dancer and actress, who is currently starring in The Fallout, said, "I always thought, 'Oh, I'll never date someone in the industry,' because it's so intense. But we inspire each other." "He inspires me every day for sure, and he says that about me, to which I reply, 'Hopefully.'"
Also read: Are Cathy Nguyen And Michael Banaag Divorced Now? Latest Relationship Update
Who Is Eddie Benjamin?
Eddie Benjamin is a singer and songwriter whose popularity started to rise when he worked with artists like Meghan Trainor, Ryan Tedder, Diplo, and Labrinth. Both Sia and Justin Bieber are his mentors, even though he was born in Australia and lives in Los Angeles.
Bieber, who is 27 years old, is going on a world tour later this year, and Benjamin will open for him.
Ziegler said this about her boyfriend: "I'm just his biggest fan." "I can't wait for everyone to hear his music because it's so crazy."
Ziegler and Benjamin started dating in 2019, but didn't tell anyone about it until March 2020. He raved about how "amazing" Benjamin is as a musician during a recent appearance on The Tonight Show Starring Jimmy Fallon.
When Did Maddie Ziegler And Eddie Benjamin Start Dating?
It's not clear when Maddie and Eddie started dating, but in an interview with Marie Claire in September 2019, Maddie told the truth about why she chose to keep her relationship with Eddie private.
She told the publication, "I was in a public relationship for two years, and I will never, ever make another relationship as public as I did." "I learned from my mistake. People on Instagram have thought that I date certain people, but I'm like, "Give it a rest."
Eddie, on the other hand, is a rising music star. In April 2021, he released his first EP, Emotional, which had a song called "Speechless" about Maddie. He told WWD about the song, "We were best friends around the time I wrote it. I played it for her, and she's been obsessed ever since." The dancer was, of course, also in the music video.
Maddie and Eddie seem to have been spending a lot of time together. During the coronavirus pandemic, the couple was quarantined together, and they even took care of a cute foster dog.