Hollywood icon and 1960s sex symbol Raquel Welch has passed away at the age of 82.
According to sources close to the family, actress Raquel Welch passed away on Wednesday morning following a short illness. Details regarding the specific circumstances of her death have not been disclosed. TMZ was the first to report the news of Welch's passing.
Raquel Welch is survived by her two adult children, Tahnee and Damon Welch. Tahnee, who is 61 years old, has made a name for herself as an actress and model, while her older brother Damon, who is 63, has also pursued a career in acting. The passing of their mother has undoubtedly left the siblings and their loved ones in mourning, as well as countless fans of the iconic Hollywood star.
Read on to know everything about the late actress' relationships as well as net worth.
Raquel Welch's Husband: She Was Married Four Times
Throughout her illustrious five-decade career, Raquel Welch had a multitude of admirers and was married four times. Despite not always choosing the ideal partner, the actress revealed before her passing that she had no regrets about her past marriages. Keep reading to know about her ex-husbands.
Raquel's First Husband, James Welch
Raquel Welch married her high school sweetheart James Welch before her rise to fame in Hollywood, and together they had two children, Damon and Tahnee Welch. Although they divorced in 1964, after five years of marriage, the actress famously chose to keep her ex-husband's last name.
Also read: Who Is Donna Vekic's Boyfriend? A Look Into Her Dating Life
Raquel's Second Husband, Patrick Curtis
Raquel Welch went on to marry producer Patrick Curtis, who produced a number of her films, such as "A Swingin' Summer" and "Hannie Caulder." However, the couple's union was short-lived, and they ultimately divorced in 1972, after which they did not have any children together.
Raquel's Third Husband, André Weinfeld
In 1980, Raquel Welch got married for the third time to André Weinfeld, but unfortunately, their marriage did not last. After being together for 10 years, the couple called it quits. In a 2015 interview with Closer, André spoke fondly of their time together, describing their union as a happy one.
However, the couple faced challenges due to geographical distance, with Welch relocating to Los Angeles while Weinfeld remained in New York City and Paris. Despite the end of their marriage, André remained supportive of Raquel and her career.
Raquel's Fourth Husband, Richard Plamer
Raquel Welch married Richard Palmer in 1999, making it her fourth marriage. However, the couple separated four years later. Welch made a decision to never marry again after her divorce from Palmer.
In an interview with British Elle, the actress shared that she loved men's company but felt she was too independent and self-motivated for marriage. She also acknowledged that at her age, the pool of eligible people was limited, and her strong personality might pose a challenge for many men. While she was open to dating, she was not actively looking for a relationship.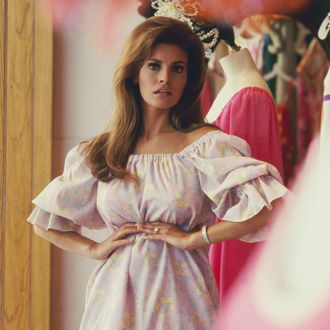 Also read: Who Is Tony Gonzalez's Wife? All You Need To Know!
A Look Into Raquel Welch's Net Worth In 2023
According to Celebrity Net Worth, Raquel Welch had an estimated net worth of $40 million at the time of her passing in February 2023. Her wealth was accumulated through her successful film and television career, along with her business ventures and endorsement deals. Welch was the ambassador for Foster Grant eyeglasses, and had a wig line with HAIRuWEAR, in addition to promoting MAC Cosmetics, jewelry, and skincare products.