Shakira Isabel Mebarak Ripoll, known simply as Shakira, is a Colombian singer, songwriter, and dancer who has achieved global fame. Born in Barranquilla, Colombia, she rose to prominence with her hit albums and captivating performances. With her unique blend of Latin, pop, and rock music, Shakira has become a musical icon, known for her powerful vocals and energetic stage presence. She has won numerous awards, including multiple Grammy Awards, and has sold millions of records worldwide. Shakira's contributions to the music industry have solidified her status as one of the most influential artists of our time.
Shakira has been making headlines recently for her rumored new love interest. Following her split from longtime partner Gerard Piqué, rumors have been circulating about Shakira's dating life. Speculation intensified when she was spotted spending time with Lewis Hamilton, the seven-time Formula 1 World Champion. In addition, there have been reports of her growing closeness to a young surfer named Gorka Ezkurdia. In this article, we will delve into the details surrounding Shakira's new boyfriend and shed light on her past relationship with Piqué.
Shakira And Lewis Hamilton: Are They An Item?
The media frenzy surrounding Shakira and Lewis Hamilton began when they were pictured together on a boat trip after the Miami Grand Prix in early May. Since then, various reports have claimed that they have had multiple meet-ups, including visits to restaurants and Hamilton picking her up from her Miami home.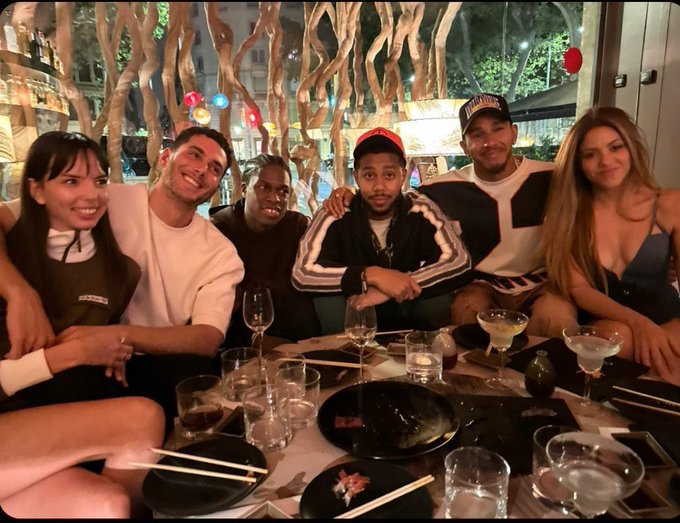 Shakira's social media posts have further fueled the rumors, as she expressed her excitement about attending the race in Barcelona and being back in the city where she had previously spent considerable time during her relationship with Piqué. The speculation reached new heights when they were seen sitting together and enjoying a post-race dinner among friends. While neither Shakira nor Hamilton has confirmed their relationship, the paparazzi have been quick to capture their every move.
Also Read: A Peek Into Chuck Todd's Wife And Their Relationship
Gorka Ezkurdia: Shakira's Surfing Instructor Turned Boyfriend?
Amid the rumors of a romance with Lewis Hamilton, another name has emerged as a potential love interest for Shakira: Gorka Ezkurdia. This 24-year-old surfer has reportedly captured Shakira's heart after becoming her surfing instructor. The pair have been spotted together engaging in the sport, and their closeness in the surf has raised eyebrows.
Gorka Ezkurdia has been surfing since 2007 and is also an underwater photographer. According to reports, he met Shakira while teaching her to surf during one of her vacations. The photographs that have surfaced depict a certain intimacy between them, suggesting that their relationship may have progressed beyond the student-instructor dynamic.
Also Read: Know About Davidovich Fokina's Girlfriend And His Personal Life
Know About Shakira's Past Relationship With Gerard Piqué
Before delving into her new romantic prospects, it is important to understand Shakira's previous relationship. Shakira and Gerard Piqué, a former Spanish soccer star, had a high-profile romance that lasted for 12 years. They met in 2010, and their love story resulted in two children, Milan Piqué Mebarak, aged nine, and Sasha Piqué Mebarak, aged seven.
However, the couple announced their separation in 2022, following months of tension and controversies. Piqué even announced his retirement from professional soccer at the age of 35. After a stormy period, it seems that both Shakira and Piqué have come to a standstill in their personal lives, paving the way for new beginnings.
Despite their separation, Shakira and Gerard Piqué have reportedly signed a child custody agreement. The agreement grants Shakira's wish for their children to live with her, and as a result, Milan and Sasha will be relocating to Miami to be with their mother. This arrangement reflects the amicable nature of their separation and their commitment to co-parenting their children.