Summer Walker has come clean about being single once more. She and her boyfriend, LVRD Pharoh ("Larry"), had been expecting their first child together, but she announced the breakup on Instagram.
She told her Instagram followers about the breakup and that she has "decided to be single" in a post about her life. Summer also said that they don't have any bad feelings toward each other and that she still thinks he's a "awesome father," but there are some things she won't stand for.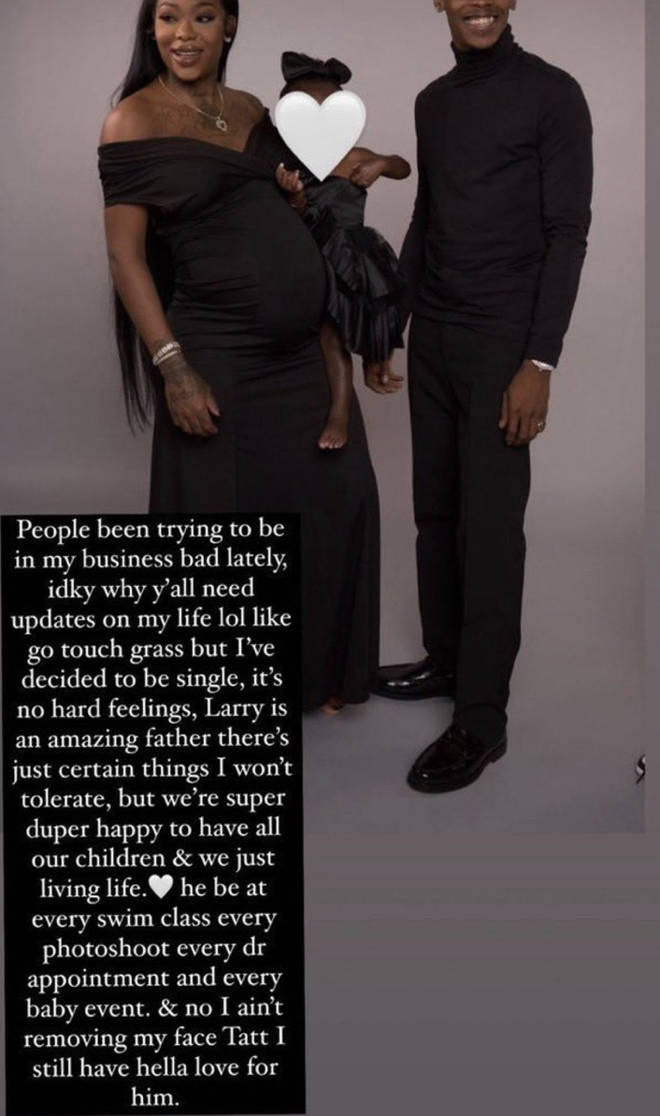 Walker is currently carrying his child, and she already has a child with her ex-boyfriend London on the Track. Here's what you need t know about Summer Walker's split from her boyfriend LVRD Pharoh aka Larry.
Summer Walker Confirms Breakup With Larry And Says She'll Keep The Face Tattoo Of His Name
Summer talked about the breakup in her story. She said, "People have been trying to get into my business a lot lately." "I don't know why you guys want to know what's going on in my life lol like go touch grass, but I've decided to be single."
"There are no hard feelings," said the 26-year-old. "Larry is a great dad, but there are some things I won't stand for. But we're so happy to have all our kids, and we're just living our lives."
She went on and said, "He'll be at every swim class, photo shoot, doctor's appointment, and baby event." The R&B singer continued, saying that she still has "hella love for him," thus she has no plans to cover up the tattoo she received on her face in honor of Larry.
Summer also wrote a second post in which she talked about the comments and criticisms about her relationship.
Also, I don't have to name any names because you see it everyday in the media, all these celebrity women who are in "marriages" or in long term relationships with children be getting dogged out every week.
Every month they complain bout how they getting cheated on, beat on, children being had on them, they lonely etc. but they rather stay for the IMAGE just to say they have a man or a ring or just to keep receiving apology Birkins and cars.
The only difference between me, them, & the rest of y'all is I prefer peace and happiness so I walk away.
Relax with all that wow she's not married, I could've been married to either one of my child's fathers, its just certain things I won't tolerate but NOTHING was a mistake I wanted all my children by the age of 25 on PURPOSE & did that.
Also read: Who Is Keisha Lance Bottoms' Husband? All You Need To Know!
Summer Walker Is Expecting Child With Ex-Boyfriend Larry
The singer, who is 26 years old, is having her first child with her ex-boyfriend, Larry, who goes by the name LVRD Pharoh.
Summer told her fans about the news on Saturday while she was doing an Instagram Live stream (June 25).
Summer will have her second child. She also has a child with London On Da Track, who she talks bad about on her new album.
"People keep asking me if I'm expecting… I am. Summer said during the Instagram Live session, "I'm very, very, very, very happy about it." You can see the clip up there!
Also read: Know About Mike Vrabel's Wife And Kids!
She added, "It's just, you know, really peaceful, really happy. There was a lot of help and a lot of love, and the only reason I'm saying anything is because, well, last time… I thought it was very rude that they didn't let me say that myself."