Jada Koren Pinkett Smith is a prominent American actress and a co-host of the popular talk show "Red Table Talk" on Facebook Watch, for which she has earned a Daytime Emmy Award.
In recognition of her influence and impact, Time Magazine included her in their list of the 100 most influential people in the world in 2021.
Appearing on Steven Bartlett's podcast, "The Diary Of A CEO," Jada was overcome with emotion when presented with a photograph of herself with Tupac, and their mutual friend Maxine. Unfortunately, Maxine had sadly taken her own life around the time of Tupac's tragic demise.
Jada Pinkett Smith became emotional as she reminisced about her close relationship with Tupac Shakur. The two had a deep bond from their childhood, often considering each other as their 'soulmates.'
However, Jada revealed that they had a falling out and were not on speaking terms when the rapper was tragically shot and killed in 1996.
In this article, we will delve into the profound connection shared by Jada Pinkett Smith and Tupac Shakur, exploring the intricacies of their relationship and the sentiments expressed by Jada herself regarding the iconic rapper.
Jada Pinkett Smith And Tupac Shakur Relationship Explored
Jada and Tupac first crossed paths during their school days, and their connection was immediate as if they had an inherent familiarity with each other.
Surprisingly, despite their strong emotional bond, Jada openly admitted that they never had a romantic relationship, a fact that puzzled not only their friends and family but also themselves.
Also read: All About Geoffrey Hinton's Net Worth, Career, And Wife
Recalling their unique relationship, Jada shared, "'Pac and I had a hard time understanding why we didn't have it, and I remember being on the back porch of my house, and we're having this discussion."
"I'm like, 'Okay, Pac, just kiss me.' And he kisses me, and it's the most disgusting kiss between us both! I mean, he pulled back, and I pulled back, and I was like, 'See, dummy!'"
She went on to explain, "Throughout our relationship, we definitely had this beautiful closeness that was really intimate but never physically intimate. A lot of emotional intimacy, a lot of intellectual intimacy.
We just knew how to reach each other in ways that were very difficult. We knew how to get around each other's walls, and we didn't get offended when we would fall into our defaults of defense – which could be pretty fierce!
Our arguments were very passionate, but because we were one and the same in that way, we kind of understood that language."
Jada also revealed her belief that their decision not to pursue physical intimacy was purposeful, stating, "I think physical intimacy can really get in the way, and I think that God just made it that way. God was like, 'No, I've got a plan, and that's not part of the plan.'"
Jada Reveals Tupac's Rikers Proposal And Her Expectation Of Post-Jail Divorce
Despite not engaging in a physical relationship, Tupac proposed to Jada while he was serving time in Rikers Island for a conviction of sexual abuse. He expressed his feelings in a letter, and Jada read an excerpt, which included Tupac's declaration of love and his desire to marry her.
Jada Pinkett Smith revealed that Tupac Shakur was seeking a support system to help him navigate his time in prison. She explained, "I think that for him, he just felt like, 'Okay, if I can tether myself, it'll keep me on a trajectory.'"
However, she emphasized that the marriage proposal wouldn't have led to a lasting marriage. Jada elaborated on their close friendship and the challenges they had faced together, suggesting that Tupac simply wanted a solid foundation during a difficult time.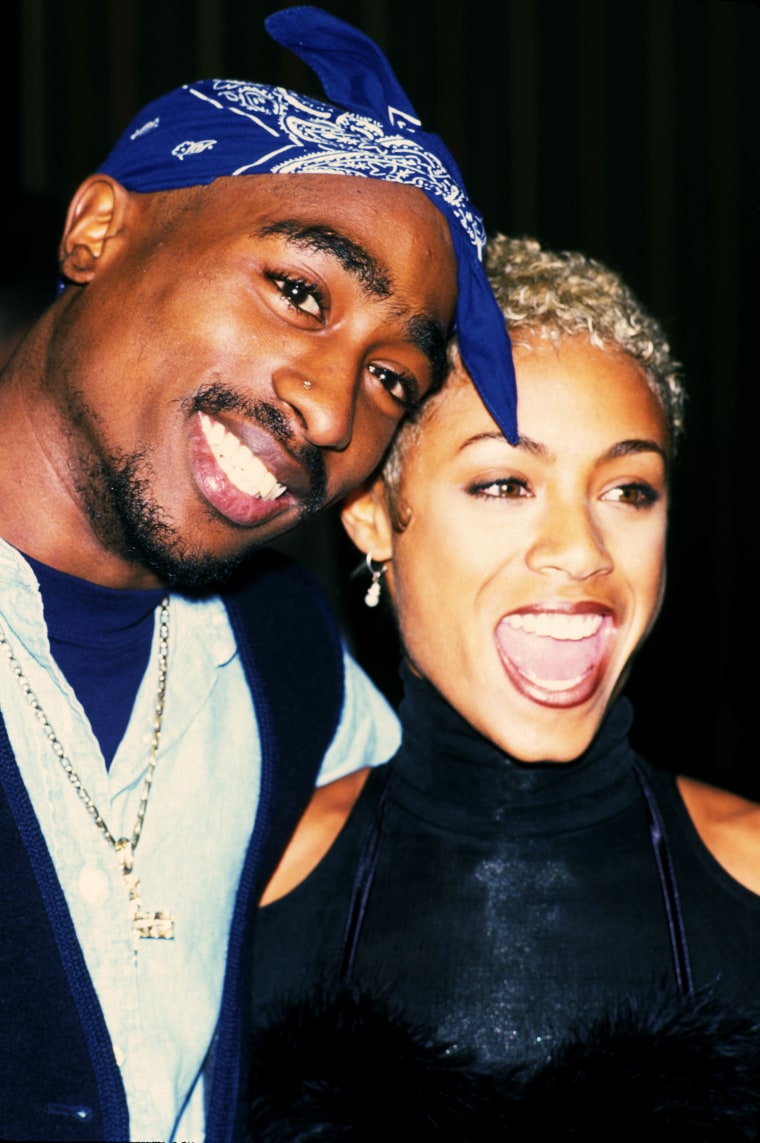 She said, "Because of our friendship and because of everything we have been through together, he just wanted to feel that solidified foundation, you know? Because I promise you, he would have married and divorced me as soon as his ass left jail."
Jada declined his proposal but remained a part of his life until a significant disagreement, which she described as one of their biggest fights, occurred following Tupac's release from prison. She expressed her concerns about his actions and behavior during this period, and they had a heated argument.
Reflecting on the fallout, Jada said, "I was just like, 'F**k that, I'm not calling him this time, he's going to have to call me; he was way out of line.'
Also read: Vince McMahon's Plastic Surgery: A Peek Into Her Transformative Journey
So I really dug my heels into the ground. I let my pride, I let my ego come in. I really took for granted that he would be living forever; he had already survived so much. I looked at Pac as being invincible at this point."
Tragically, this argument turned out to be the last time she spoke to him, and less than a year later, Tupac was shot and killed at the age of 25.