José Antonio Domnguez Bandera, popularly known as Antonio Banderas, is a Spanish actor. He is known for his work in many different kinds of movies. He has won a Cannes Film Festival Award and a European Film Award, and he has also been nominated for an Academy Award, a Tony Award, two Primetime Emmy Awards, and five Golden Globe Awards.
He has a very successful career, which proves he's doing very well in his professional life. Now people want to know about his personal life too. Who is Antonio Banderas dating in 2022?
Here's everything yo need to know about Antonio Banderas love life.
Who Is Antonio Banderas Dating?
The actor from "Desperado" has a girlfriend, whose name is Nicole Kimpel. In 2014, after his separation from Working Girl actress Melanie Griffith, they started dating. Antonio actually said that Nicole saved his life in 2017 after he had a heart attack.
"The night before I had this event, my girlfriend had a headache, and we didn't have anything in the house to help her. So, she went out to buy something, painkillers or whatever," he said on Jimmy Kimmel Live! " Nicole bought this aspirin because it was the only thing she could find, and she found the strongest one, I think it was five milligrams."
Also Read: Who Is Tiffany Haddish's Boyfriend? All You Need To Know About Tiffany's Past Relationships!
"She bought some water and other things, and when she went to the cashier to pay, the girl working there told her, "You just dropped that thing over there." It was an aspirin." "The next morning, when I started feeling sick and knew what was going on, she put one of those aspirins under my tongue, and that saved my life."
Since that scary thing happened, he and Nicole have grown even closer. In May 2022, the couple celebrated their 8th anniversary. They keep posting photos on their respective Instagram account.
Meet Nicole Kimpel 
Nicole is from a Dutch native, but she lives in London now. She speaks five languages. She can be considered as beauty with brains.  Melanie, the actor's ex-wife, was basically Hollywood royalty and very involved in his industry. Nicole, on the other hand, worked as an investment banker before she and her sister Barbara started their own business.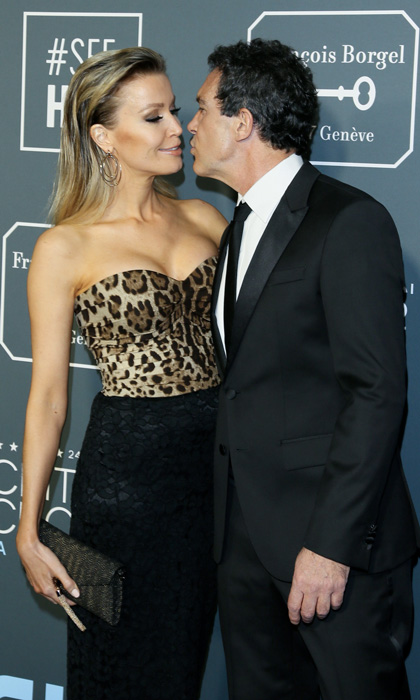 Nicole talked about her relationship with Antonio in an interview with Magzter.
"I don't need to be the center of attention. Because my partner is well-known, fame is a part of my life. "But I think I've learned to deal with it on my own, so it doesn't bother me anymore," she said. "We're happy together, and I don't think of him as a movie star. He is the love of my life. Even if you don't count his success at work, he has a lot of great qualities and skills.
Also Read: Graham Weston's Divorce From Wife, Elizabeth Weston – Everything You Need To Know
Antonio Banderas & Nicole Kimpel Attended Porcelanosa Gala 2022 in Spain
Antonio Banderas and his girlfriend Nicole Kempel smiled as they walked up the red carpet for a gala event in Marbella, Spain, on Sunday, August 14. Nicole, age 40, leaned in close to Antonio, age 62, as they both smiled for the photo at the Starlite Gala, which fundraised for the Marbella-based organization.
Antonio looked sharp in a white blazer and black pants for the event, and Nicole lit up in a navy gown and also carried matching clutch with her outfit.
The couple seems to be more in love than ever, and they have shown fans some sweet moments from their relationship.