After a year of ups and downs in the Bachelor franchise, it's finally time to go back to Paradise and watch a whole new group of singles find love on the beach. This year, there will be a lot of new things to look forward to, like seeing the new host Jesse Palmer mix it up with Bach Nation fan favorites.
During most of Bachelor in Paradise season 7, Grocery Store Joe Amabile and Serena Pitt were thought to be a great match. Even when Joe's ex Kendall Long showed up to stir things up, they were still pretty close.
Fans know that Serena and Joe Amabile, also known as "Grocery Store Joe," got engaged on the beaches of "Bachelor in Paradise" last summer.
It's natural to wonder if these two are still each other's favorite people. We have all the information you need, including photos as proof.
Here's what we know about Joe and Serena's relationship right now:
Are Grocery Store Joe And Serena Pitt Still Together?
When the seventh season of Bachelor in Paradise ended, most viewers wanted to know if the show would be back for an eighth season. But the couples who got engaged during the seventh season probably had a different question: what now?
Considering how other Bachelor Nation couples ended up, there was reason to worry about how long Serena Pitt and Joe Amabile would stay together. Luckily, Amabile and Pitt are still together, and their relationship even held up when they went on a trip together.
Right after the BiP finale aired, Joe put the proof on his Instagram. "My Everything," he wrote as the caption for the cute photo.
Serena added her own cute pictures.
Even the next Bachelorette thinks the happy couple is great: Michelle Young had this to say, "Now that I can see through my tears enough to type… YOU BOTH ARE SO LOVED!! Say, "Congratulations!"
Also read: Who Is Alexandria Herring's Boyfriend? Cheating Allegations With Ned Fulmer
Just a couple of days back, Serena uploaded loved-up pics of herself with Joe on her Instagram profile.
So all of this proves Grocery Store Joe and Serena Pitt's relationship is going strong, and recently Serena revealed how she manages to keep their bond strong.
Serena Pitt Tells How She Keeps Her Relationship With Joe Amabile Strong
Serena Pitt did a Q&A on Instagram. She talked about her relationship, her career, and a lot more.
A fan asked Serena what she and Joe do most to make sure their relationship stays strong.
Serena said, "Every relationship takes work!" We make sure to talk to each other and put each other and our needs first."
She went on to say, "We really enjoy spending time with each other and talking, which makes everything so easy."
And just when you thought they couldn't get any cuter, someone else asked Serena what the best change in her life has been since "Paradise." She posted a picture of Joe and wrote, "This guy" with a heart emoji.
Also read: Is Nick Kroll Dating Kate Berlant? Know About His Wife Lily Kwong
What are Grocery Store Joe And Serena Pitt Up To These Days? When Will They Get Married?
Joe Amabile and Serena Pitt are both looking for new ways to make money, and their relationship also seems to be changing quickly. After all, the couple just started living together not too long after they met for the first time.
Joe and Serena could be together in real life. In fact, their co-star Abigail Heringer accidentally ruined the surprise when she wrote THIS on Serena's poolside photo: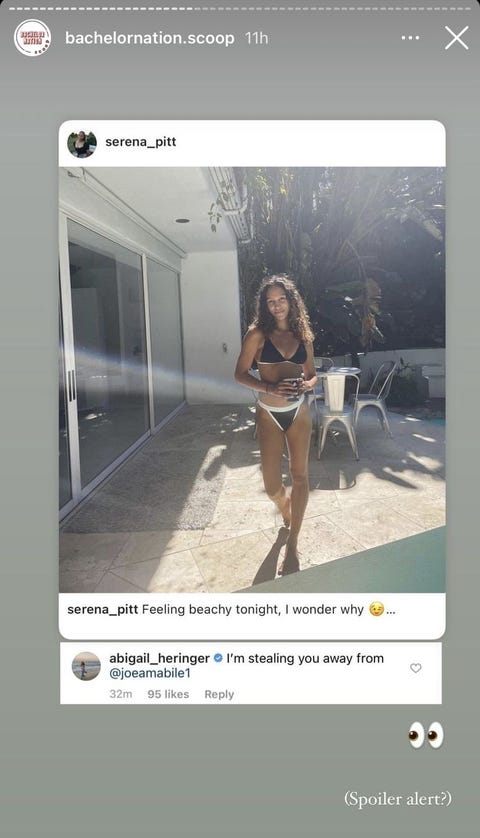 Joe Amabile and Serena Pitt had an engagement party for their family and friends at the end of August 2022. Even though the couple lives in the United States now, they had their engagement party in Toronto, Ontario, Canada, which is where Pitt is from.
When fans asked Sera Pitt questions on Instagram, she talked about the future of her relationship. Pitt's answers show that she and Joe Amabile want to get married in 2023 and have children in the future.