Kari Ann Lake is an American politician and a former television news anchor. After working at the Phoenix TV station KSAZ-TV for 22 years, she quit her job as an anchor in March 2021. She started her campaign for governor of Arizona on June 1, 2021. She is the Republican candidate in the 2022 Arizona gubernatorial election.
Lake was raised in Iowa. She graduated from high school at North Scott Senior High School in Eldridge, Iowa, and then went to the University of Iowa to get a Bachelor of Arts in communications and journalism.
When talking about her personal life, she has been married twice. Currently, she is happily married to Jeff Halperin, and shares two children together. She was previously married to Tracy Finnegan, who was an electrical engineer.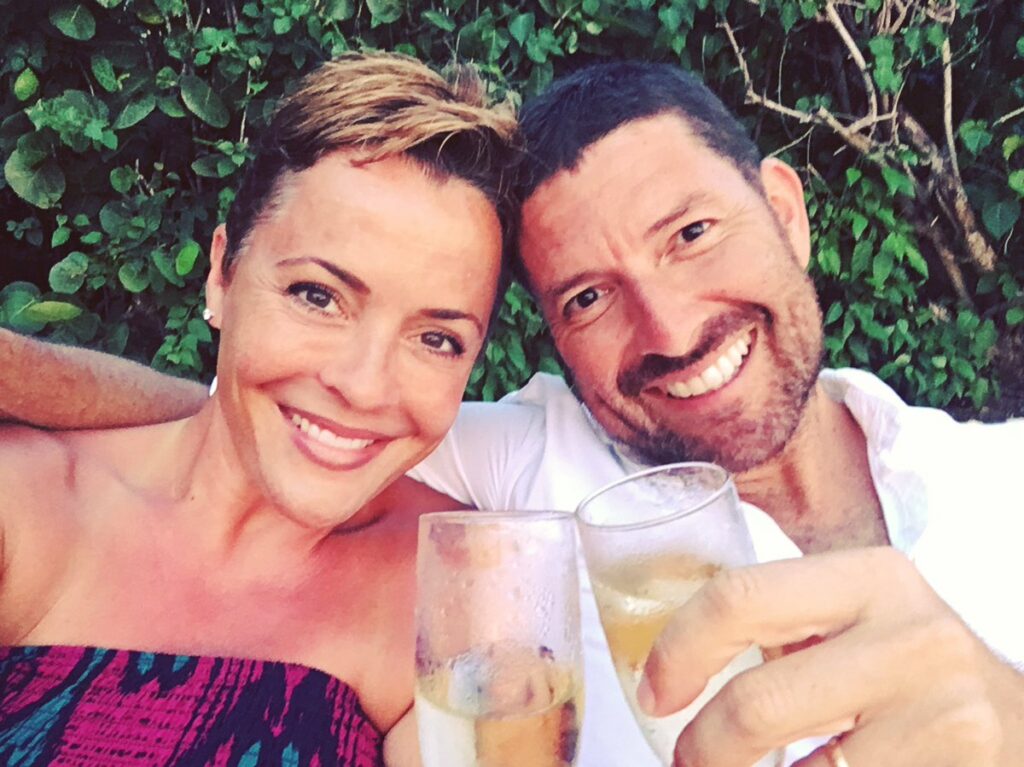 Read on to learn everything about Kari Lake's husband and more you need to know.
Kari Lake Is Married To Jeff Halperin
Kari Lake is now married to Jeff Halperin for a long time, almost 24 years. Since they got married on September 26, 1998, they have had two children: a boy named Leo, who was born on October 10, 2008, and a girl named Ruby, who was born on March 30, 2003.
Also read: Are DJ Pauly D And Nikki Hall Engaged? Know The Truth!
After getting his BA in journalism at NBC News in 1994, Jeff was recruited for his first job. He worked as their News Editor and News Photographer for almost four years. He began working for WNYT-NY as a news photographer later in 1998. He is the owner of ZenHD/ZenVideo, a full-service production company that offers services for broadcast, web production, and other types of video production.
Know More About Kari Lake Career
As a student at the University of Iowa, Lake started working as an intern at KWQC-TV in Davenport, Iowa, in May 1991. She later became a production assistant, and in 1992 she started working as a daily reporter and weekend weathercaster for WHBF-TV in Rock Island, Illinois. In August of 1994, KPNX in Phoenix, Arizona, hired Lake to be their weekend weather anchor. She later became the evening anchor at KPNX. In the summer of 1998, she replaced Chris Kapostasy at WNYT in Albany, New York.
In 1999, Lake moved back to Arizona and started working as the evening news anchor for KSAZ-TV (Fox 10 Phoenix). Lake talked to President Barack Obama in 2016 and President Donald Trump in 2020 while working at KSAZ.
Also read: Who Is Stephanie Gosk's Wife? All You Need To Know!
In March 2021, she said she was leaving KSAZ. The next day, a website for the television news industry called FTVLive posted a video clip of Lake at the Conservative Political Action Conference (CPAC) in Orlando. The website asked if Lake was there as a journalist or as a member of a movement.
Lake ran her campaign on the false claim that the 2020 presidential election in Arizona and across the country was "rigged and stolen." Boris Epshteyn, a former Trump White House aide who supported Trump's efforts to overturn the election results, said that her position was the reason she won the Republican primary despite being "outspent 10-to-1." On August 2, 2022, Lake won all of Arizona's counties in the Republican primary.