Tyreek Hill is a wide receiver for the Miami Dolphins of the NFL. In the 2016 NFL Draft, Hill was selected by the Kansas City Chiefs in the fifth round. He participated in football at Garden City Community College, Oklahoma State University, and the University of West Alabama.
As a rookie, Hill's primary role was as a return specialist; now, he plays wide receiver exclusively. The fast player earned the moniker "Cheetah" after his debut season. After just six seasons in the NFL, he already has six Pro Bowl nods to his name, a Super Bowl ring from Super Bowl LIV, and a spot on the NFL's All-Decade Team of Punt Returners from the 2010s to boot. Besides his career, his personal life is also very interesting. In this article, we'll talk about his personal life including his relationships.
Also Read: Who Is Tua Tagovailoa's Wife? Know His Relationship With Annah Gore!
Tyreek And Keeta Got engaged In 2021
It has been that Tyreek earlier got engaged to Jeeta Vaccaro. Keeta Vaccaro comes from a family of football players, and her brother Kenny Vaccaro was a defender for the Saints and the Titans. Hill and Vaccaro made their relationship official with a post on social media in December 2020, but rumors say they had been dating for a long time before that. He put up a picture of himself with Keeta and wrote, "So proud of this queen. Can't wait to keep being goofy and adventurous with you." Tyreek Hill finally took the plunge and proposed to Keeta Vaccaro on July 4, 2021.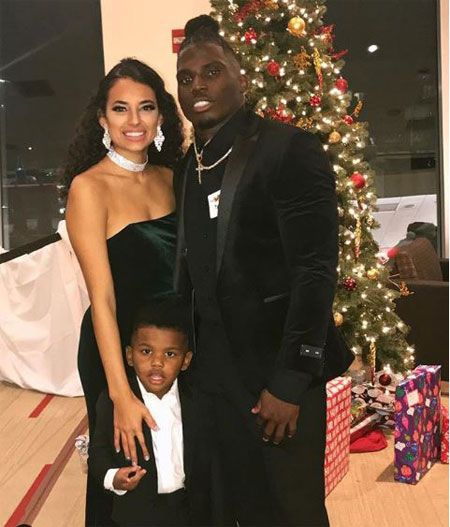 The couple also started a YouTube channel called Keeta and Cheetah, where they talk about their life as a couple and do challenges together. The couple even said on their YouTube channel that they bought a house together. Even though they got engaged in a big way, there are rumors that Keeta and Tyreek are no longer together. Tyreek was seen on vacation with a model Mary Isabel.
Meet Keeta Vaccaro
Keeta Vaccaro was born in Brownwood, Texas, on February 14, 1996. She went to high school at Brownwood. Keeta went to college after he graduated from high school. He studied physical therapy at the University of Miami. Later, he changed schools and went to the University of Texas, where he got a degree in entrepreneurship and marketing. The Vaccaro family is known for football, but Keeta made a name for herself as a successful businesswoman.
Keeta is one of the founders of 1996: The Label, along with her best friend Abby Adams. The brand, which is based in Miami, is well-known for its accessories, clothing, and other items. In 2017, Keeta started her own clothing and accessory line called Misurare. Keeta is a creative director, a model, and a social media influencer, according to her Instagram profile. She also did an internship at Miami Swim Week and worked for the American Physical Therapy Association. Keeta also works for Coldwell Banker as a licensed real estate agent.
Also Read: Who Is Pam Oliver's Husband? Is She Married To Alvin Whitney?
Tyreek's Rumored New Girlfriend, Mary Isabel
Tyreek Hill is said to be dating Mary Isabel, a painter and model who lives in Miami. He was seen having fun with her after signing a $120 million deal with the Dolphins for four years. On vacation, Hill and Isabel were seen together. Hill and Isabel were first seen together on the Miami Dolphins' team plane, which they both got on.
Each of the two does not provide confirmation. We'll let you know the latest information as soon as we have it.