Zoey Deutch has been a fixture on both television and film for more than a decade, with appearances ranging from the Disney Channel to major studio features.
Since the release of her latest production, "Not Okay," which has been a huge success on streaming services, fans have been curious to know who she is dating at the moment.
Zoey doesn't want a boyfriend who is completely in sync with her in every way. She even goes so far as to say it would be boring. In an episode of Betches' U Up? released on August 10, the Not Okay star discussed her dating life and why she appreciates the differences between her and her lover.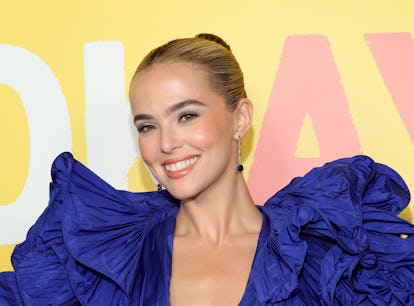 It looks like Zoey Deutch has met her equal, and we've got the details on this newfound love interest. Read on for everything you need to know about Deutch's boyfriend.
Who Is Zoey Deutch's Boyfriend: She Is Dating Jimmy Tatro
Zoey is presently dating LifeAccordingToJimmy's Jimmy Tatro, an actor, and former YouTuber. Despite Deutch's humorous star power, her partner is also rather funny.
Tatro has been in several popular shows, including American Vandal and Home Economics on Netflix, in addition to performing stand-up comedy.
It wasn't until 2021 that the couple's Instagram account became public knowledge. At first, Jimmy just posted a few pictures of Zoey, but in 2021, for Valentine's Day, he posted a bunch of cute ones of the two of them. "Just using this as an excuse to upload some top class untapped Zoey stuff," he captioned the photo.
Tatro remembered his girlfriend on her birthday in November of 2021. In May, the couple went on a European vacation with Nina Dobrev and Shaun White, another famous celebrity couple, who are good friends of Zoey and Jimmy
The star of Set It Up also talked about Jimmy in an interview with Lights, Camera, Barstool, where she said that he was "embarrassed" by her character in Not Okay. When my partner saw it for the first time, he was adamantly against it: "No! Why are you doing that, Zoey?" she said incredulously. His head was in his hands the entire time, so I doubt he paid attention.
Also read: What Is Bob Chapek's Net Worth In 2022?
All You Need To Know About Jimmy Tatro
Jimmy Tatro went to high school in Los Angeles, at Notre Dame High School in the neighborhood of Sherman Oaks. Tatro joined the Pi Kappa Phi fraternity at the University of Arizona, where he enrolled directly after graduating from high school.
Tatro has been uploading comedic skits to his YouTube channel, LifeAccordingToJimmy, since 2011. His channel has over 3 million subscribers, and it has featured celebrities like Angela Kinsey, David Henrie, Alexander Ludwig, Emily Osment, Milo Ventimiglia, and many more.
Tatro has taken his comedic routines on the road, performing at comedy clubs and universities in addition to posting them on YouTube.
Also read: Who Is Austin Ekeler's Girlfriend? Meet Melanie Wilking!
Tatro's breakout role was in the Adam Sandler comedy Grown Ups 2, where he was paired with Sandler. Roles in films such as 22 Jump Street, Blue Mountain State, American Vandal, and most recently Home Economics have come his way since.