Cameron Jibril Thomaz is an American rapper, singer, songwriter, and actor who is better known by his stage name, Wiz Khalifa. Show and Prove, his first album came out in 2006. In 2007, he signed with Warner Bros. Records. His first minor hit was the Eurodance-influenced song "Say Yeah," which was played on urban radio and made it onto the Rhythmic Top 40 and Hot Rap Tracks charts in 2008.
The rapper is well-known for his relationships with high-profile ladies including Canadian model Winnie Harlow and American reality television star Khloe Kardashian. As well as, he was previously married to Amber Rose and also shares one child with her.
Read on to know everything regarding his current girlfriend and past relationships.
Is Wiz Khalifa Currently Dating Aimee Aguilar?
The rapper was often seen with a mystery woman, but fans found out who she was when Wiz was photographed with her and it looked like they were going out. That took place in 2019, and Wiz Khalifa has stayed with his girlfriend, Aimee Aguilar, to this day.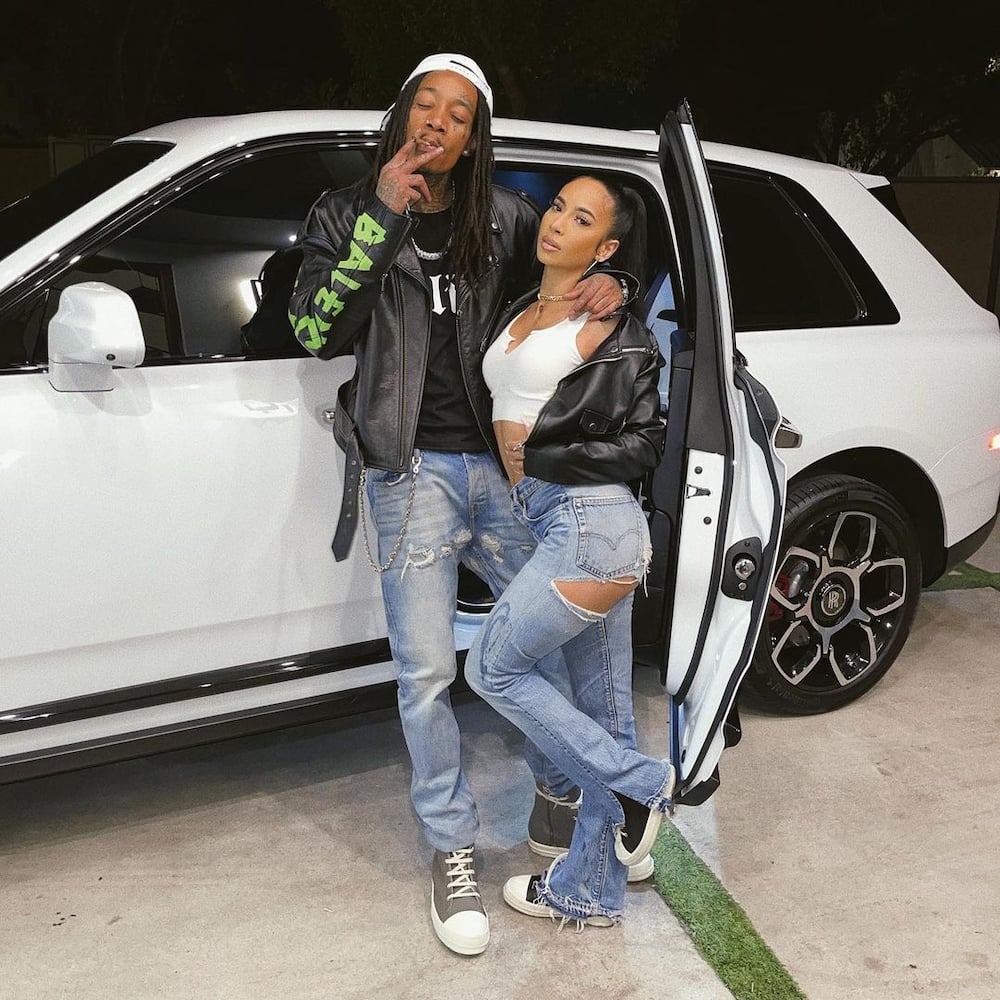 Aimee is an Instagram model who has had small roles in popular shows like Impractical Jokers and Power. She has also been in some music videos, such as Tyga's Taste and Quavo's How About That?
In addition to that, Aimee is an entrepreneur who runs a clothing line known as Oasis Swim.
Also read: Is Britney Spears Pregnant? New Video Shows Off Baby Bump
Talking about Aimee's social media presence. Aimee Aguilar is quite active on Instagram under the handle @aimeeags, where she has amassed a significant amount of followers. As of this writing, she got 73.4k followers, who follow her. Her bio mentions herself as a content creator.
Recently, Wiz shared a video with his reported girlfriend, Aimee on his Instagram account on the occasion of thanksgiving and wrote in the caption, "Can i get to tha 🍠s"
However, neither Wiz nor Aimee made any public confirmation regarding their relationship.
Wiz Khalifa Was Previously Married To Amber Rose
At the beginning of 2011, Khalifa started a relationship with the model Amber Rose. On March 1, 2012, they announced their engagement, and on July 8, 2013, they wed each other. They only had one child together, and his name is Sebastian Taylor, who was born in 2013.
It was stated that Rose would be filing for divorce on September 24, 2014, citing the inability to reconcile their differences as the reason. Khalifa and Rose both share legal custody of their child as of the year 2015.
Winnie Harlow And Wiz Khalifa Used To Be A Famous Couple In Hollywood
Winnie Harlow is one of Wiz Khalifa's most well-known girlfriends because of how public their relationship is. In 2018, four years after his divorce from Amber Rose, they started dating. So, it was only natural that they quickly became one of Hollywood's cutest couples.
Also read: Who Is Jordin Sparks Husband? Meet Dana Isaiah!
First, there were rumors that Wiz and Winnie were dating when the rapper posted a picture of them on Instagram with a bunch of heart emojis. "Winnie & Wiz" was written in the post's caption. Even Amber Rose liked the relationship, saying that it would be cool if Winnie Harlow became the stepmother of her and Khalifa's son. In 2019, Wiz and Winnie broke up, and soon after, the rapper was seen holding hands with an unknown woman.