Saquon Barkley is a running back for the National Football League team New York Giants. Barkley played college football at Penn State for three years and had a total of 5,557 all-purpose yards before he joined the NFL in 2018.
Barkley's great rookie year in 2018 showed that the Giants were right to take a chance on him with the second overall pick. If he gets back to playing like he used to, it might help convince the team's new leadership to keep him on.
Barkley wants to convince the Giants' new decision-makers—or other suitors throughout the league—to stake him once more. Barkley stated in an August interview at the Giants' facility that "it's a turning point for my legacy." "I can turn things around this year. To come out here, change that, and leave all the bad luck behind me is my main goal.
Except his professional life, fans are quite eager to know about his personal life. Here in this article we'll read about Saquon Barkley's love life.
Saquon Barkley's Girlfriend, Anna Congdon
Barkley and Congdon met when he was a college football player at Pennsylvania State. In 2017, they began going out with each other. The couple prefers to kept their relationship quiet. In February 2019, Congdon went on Instagram to wish Barkley a happy birthday. Aside from that, there aren't many posts that include both of them.
Anna Congdon is a self-made model with a huge fan following on Instagram. She has amassed total 89.4K followers under the handle @annacongdon. She is inactive on Instagram from last one year. Her last post on Instagram was made on September 2021. Neither Barkley posted any photo of himself with Anna.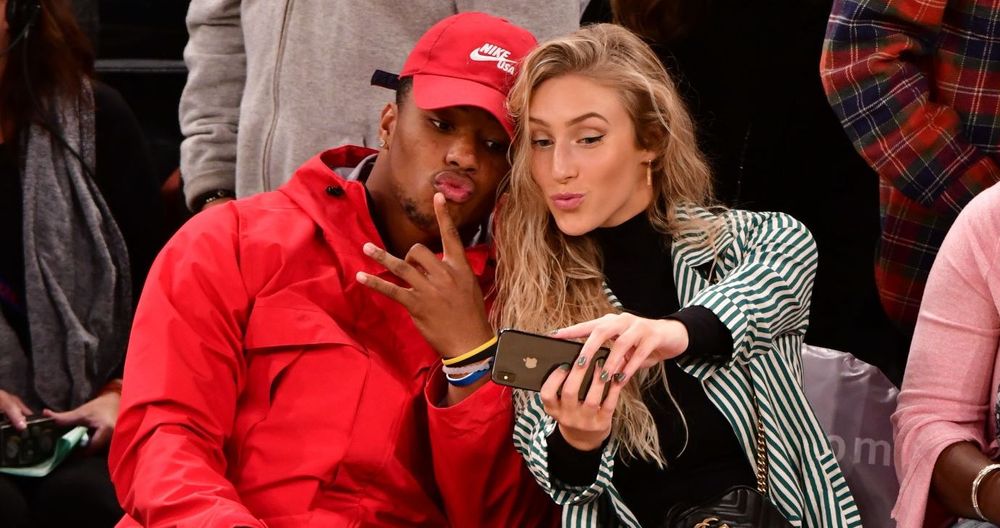 Also read: Kevin Clancy Divorce – Are KFC And His Wife Kaitlyn Together In 2022?
His relationship with Congdon was also put in doubt when reports surfaced that he was cheating on her. After Josie Canseco broke up with Brody Jenner, he was seen going out with her in 2020. Barkley was then seen with Stassie Baby, who is Kylie Jenner's best friend. But Barkley and Congdon haven't said anything about their breakup, even though he has been seen with Canseco and Stassie Baby.
We may hope the couple is still going strong, as there is no information from the both the side about any split.
Saquon Barkley Said NFL 2018 Was Best Draft Story Ever
On April 26, 2018, Saquon Barkley's lifelong dream came true: he was picked by the NFL. Just two days before, he and his girlfriend, Anna Congdon, had given birth to their daughter, Jada Clare Barkley.
Barkley said in a post on The Player's Tribune that the birth of his daughter almost kept him from going to New York for the draft. The player said that if he had to choose between his daughter and the NFL draft, he would always choose his family.
Also read: Devon Lee Carlson Break Up With Boyfriend Jesse Rutherford – Complete Details
Barkley and Congdon were lucky that their daughter Jara was born just two days before the draft. He calls it the "best draft story ever" because he got to play in the NFL and start a family within a few days of each other.