Eric James McCormack is a Canadian American actor known for his versatile performances on both stage and screen. With notable roles in popular shows like "Will & Grace" and "Travelers," McCormack has showcased his exceptional acting abilities and garnered critical acclaim. His talent, charm, and dedication to his craft have made him a beloved figure in the entertainment industry.
Eric has captivated audiences around the world with his impeccable acting skills. While his on-screen performances have mesmerized us, there is one person who holds a special place in his heart—his wife of 22 years, Janet Holden. Let's delve into their enchanting love story that blossomed behind the scenes.
Eric McCormack And Janet Holden Met On The Set
In 1994, during the filming of the Canadian series "Lonesome Dove: The Series," Eric McCormack's path crossed with that of Janet Holden, who worked as an assistant director on the show. At the time, McCormack was already establishing his reputation as a stage actor, having performed in numerous Shakespearean plays at the esteemed Stratford Festival. As fate would have it, the chemistry between them was undeniable, and they quickly fell in love.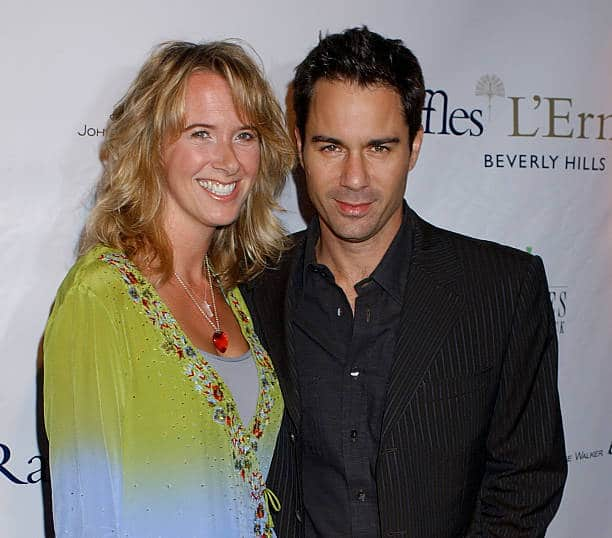 Recalling their first encounter, McCormack shared with The Guardian, "I met my wife, Janet, in 1994 on the set of a TV series. She was the assistant director. I was just coming out of a relationship, and not to be trusted. I'd been dating actresses but Janet was different. She wore jeans, drove a pick-up truck…" However, their relationship had to be kept a secret, as Holden was cautious about the challenges of dating an actor and wanted to maintain professionalism on set.
Also Read: Who Is Chris Evert's Husband? Know About Her Marriages
How Did Eric McCormack And Janet Holden Get Married?
After a season on "Lonesome Dove," Holden moved on from the show, removing the need for secrecy surrounding their relationship. However, McCormack had already made Los Angeles his home, while Holden remained in Canada. Thus, their relationship transitioned into a long-distance one. Despite the challenges, they remained committed to each other.
Their commitment was publicly acknowledged at the wrap party for "Lonesome Dove: The Series" in 1995, where they arrived arm-in-arm, proud to be together. McCormack continued to pursue his acting career, even as he worked on the TV movie "Borrowed Hearts: A Holiday Romance" in 1997, all the while staying devoted to Holden.
On August 3, 1997, just five months after McCormack was cast in the groundbreaking sitcom "Will & Grace," the couple exchanged vows, marking the beginning of their journey as a married couple. McCormack fondly remembers that period, saying, "At the time we actually got married, it was a really slow summer. I thought I was going to get this job and all this money, but I didn't, so she actually married an out-of-work actor!" He credits his wife for grounding him during the whirlwind of fame that followed the success of "Will & Grace," emphasizing that their marriage saved him.
Also Read: Meet Jordan Mailata's Wife: He Tied The Knot With Niki Ikahihifo-Bender
Building A Family: Eric McCormack's Children
Following their marriage, Eric McCormack and Janet Holden embraced the joys of parenthood. On July 1, 2002, they welcomed their son, Finnigan Holden McCormack, into the world. McCormack was almost 40 years old when his son was born, prompting him to reflect on the experience of late parenting. While he acknowledged the benefits of having children later in life, such as having a more established sense of self and stability, he also recognized the challenges that come with being older parents.
As Finnigan, now a 17-year-old, grows into his own person, it is evident that he has developed his own interests separate from his father's acting career. McCormack humorously shared, "He's shown an inclination to run in the other direction of my footsteps, I think! The fame part of it has never been something that interested him. He's very independent and very much his own guy." While there may not be an actor in the making, McCormack is proud of his son's individuality and supports his pursuit of other passions, suggesting that a musical career might be more fitting for him.