As the former CEO of Twitter, Jack Dorsey is a well-known name, not only in the United States but also worldwide.
Jack Dorsey is an American Web developer and entrepreneur. He was born on November 19, 1976, in St. Louis, Missouri. Along with Evan Williams and Christopher Stone, he cofounded Twitter in 2006. As a teenager, Dorsey made software that helped taxi companies find drivers. This software was used by taxi companies. He went to school at New York University before moving to San Francisco in 1999. There, he started a business that used the Internet to send out couriers, emergency vehicles, and taxis.
In 2000, he first thought about using text and instant messaging (like dispatch software) to stay in touch with friends. Six years later, he told Williams and Stone about his idea, and they worked together to make a prototype of what would become Twitter. On March 21, 2006, Dorsey sent out the first tweet.
People envy his business skills in the technology world and respect how much he has given to charity over the past few years.
Also Read: Who Is Gemma Chan's Boyfriend? Is He Dating Dominic Cooper?
Besides his accomplishments, we're here to talk about his personal life.
Who Is Jack Dorsey's Girlfriend In 2022?
Fans are interested in Dorsey's dating life because everyone is always looking at him. They wonder what kind of woman could catch his eye and become his special someone. He has kept his dating life pretty low-key over the years, but he has been linked to some well-known women along the way.
But at this point, it seems like Jack is single. He hadn't confirmed a date with any woman. It makes sense that Jack Dorsey tries to stay out of the spotlight as much as possible. He is often seen in casual clothes and doesn't like to show off how rich he is. He doesn't like to show off his money, so he tries to keep most of his personal life where it belongs: behind closed doors. He hasn't talked about his dates or relationships in public or with the media.
Jack Dorsey's Dating History
Raven Lyn Corneil
Dorsey has been linked to a number of beautiful women, and one of them is a Sports Illustrated cover model, Raven Lyn Corneil. She has modeled for big brands like Calvin Klein and Puma XO. She has gotten a lot of high-profile modeling jobs because of how beautiful and exotic she is, and Jack Dorsey has definitely taken notice.
They were seen at New York Fashion Week together, and in 2018, they were said to be dating. Dorsey is said to have bought Corneil a starter home in California for a lot of money, but by 2019, the two of them had broken up.
Kate Greer
Kate Greer, an artist, and business owner was famously linked to Jack Dorsey. She owns the well-known homegrown popcorn company Cheerie Lane. This is one of Dorsey's longest-lasting relationships. In 2010, these two birds started dating, and they reportedly broke up for a very short time. They eventually found each other again in 2013 and started dating again.
They had an on-again, off-again relationship for a few years before they finally broke up. Greer went on to marry Peter Fenton, a venture capitalist who has long been thought of as Dorsey's "foe."
Lily Cole
Lily Cole, who was one of the most popular models for Vogue in the 2000s, is another beautiful young woman who has been romantically linked to Dorsey.
The two were reportedly together from December 2012 to June 2013, which isn't very long, but photographers couldn't stop taking pictures of them. Cole has been a model for a long time and has won a number of awards.
Nicole Lapin
Nicole Lapin is a well-known newscaster who has worked for CNN, CNBC, and Bloomberg. As a finance correspondent for Morning Joe and The Today Show, she also got a lot of attention. She is also a best-selling author on the New York Times list. She had a romantic relationship with Jack Dorsey, but they kept their relationship low-key and stayed away from the cameras while they were together.
Flora Carter
In June 2021, swimsuit model Flora Carter caught the eye of Jack Dorsey. Cameras were everywhere to take pictures of the happy couple as they spent the afternoon on the beach in Miami. Even though they didn't hold hands or kiss, their body language showed that they were together. No one knows what their relationship is really like.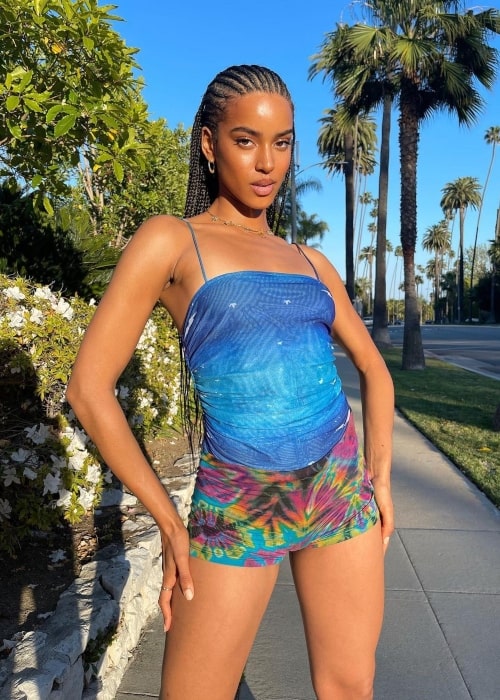 As quickly as this couple walked in front of the cameras, they ran away and were never seen together again.
Sofiane Sylve
Jack Dorsey has a lot of respect for how disciplined professional dancers have to be. His relationship with Sofiane Sylve opened his eyes to the world of dance, and he has persisted to be a huge fan of and supporter of the arts. Dorsey has been quoted as saying, "Ballet has taught me a lot. I like the discipline and coordination. It's very hard to make something easy." Sofiane was a lead dancer in the San Francisco Ballet, and Dorsey was mesmerized by her when he was just getting started.
Also Read: Is Shawn Killinger Pregnant In 2022? Know About Her Husband!
Mystery Woman In 2022
Back in 2022, rumors were going around about a mysterious woman who showed up with Jack Dorsey earlier this year.
They went to Drake's concert in WeHo, where Dorsey was dressed casually as usual and his mystery date, who was tall and thin, was wearing a fancy, sheer dress. Fans want to know who the beautiful woman is that he's with, but Dorsey isn't saying much about her right now.