It came as a surprise to the entertainment industry when Bob Iger, one of Disney's most legendary CEOs, announced his return to the helm of the media company.
Robert Allen Iger is an American businessman who is the interim chief executive officer of The Walt Disney Company. He was the president of ABC Television from 1994 to 1995 and the president and chief operating officer of Capital Cities/ABC from 1995 until it was bought by Disney in 1996. Iger was named president of Disney in 2000, and he took over as CEO from Michael Eisner in 2005 until his contract ended in 2020. He then worked as Executive Chairman until his retirement from the company in 2021.
Iger surprisingly returned to The Walt Disney Company as CEO on November 20, 2022, following the abrupt departure of his successor, Bob Chapek.
Now, fans and netizens are scrolling all over the internet to know more about his professional as well as personal life. In this post, we'll uncover all the details you need to know.
Know About Bob Iger's Wife, Willow Bay
Bob Iger has been married twice. His first marriage, to Kathleen Susan Iger, was unsuccessful and eventually led to their divorce. They are parents to two daughters.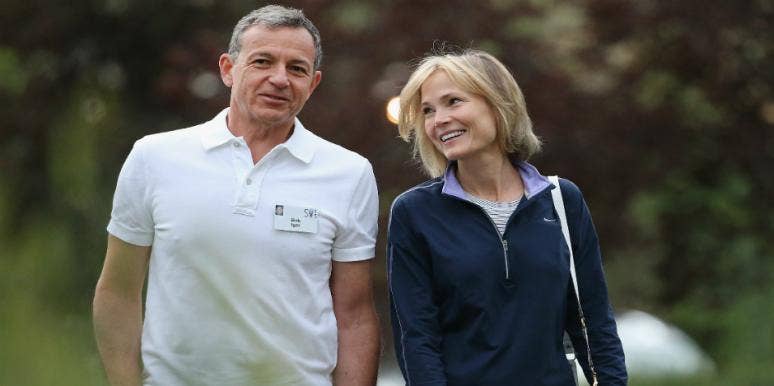 In 1995, Iger wed journalist Willow Bay in Bridgehampton, New York, in a ceremony that included themes of both Jewish and Roman Catholic traditions. The couple went on their first date to a romantic restaurant in TriBeCa namedAlison on Dominick.
Also read: Meet Bob Menendez's Wife: She's Under Investigation For Receiving Gifts Over Favors
The couple has two sons together. Robert Maxwell "Max" Iger was born three years after they got married. And in 2002, their second son, William Iger, was born.
Iger's wife, Willow Bay, is the Dean of the USC Annenberg School of Communication and Journalism. Both were honored at the gala last year for all the years they had helped the YES Scholars organization, which was started by Eric Eisner and gives resources to brilliant young people from low-income communities in Los Angeles, New York City, Chicago, and some parts of North Carolina.
In a 2018 Vogue profile on Iger, the dean said that she and her husband "have never been apart since June 13, 1994."
Bay also said that they spent a lot of time with their kids at home and caught up on shows like The Crown.
Bob Iger Finally Returns As Disney CEO For The Company's Better Future
The board of Walt Disney Co. said in a statement on Sunday that former CEO Bob Iger is returning to the media company as CEO.
"We thank Bob Chapek for his many years of service to Disney, including guiding the company through the unprecedented challenges of the pandemic," Susan Arnold, Chairman of the Board at Disney, said in a statement on Sunday night. "The Board has decided that Bob Iger is the best person to lead the Company through this crucial time as the industry changes and becomes more complicated."
Also read: The Truth Behind Princess Diana's BBC Interview Controversy
Even though the news surprised the media industry, it comes at a time when Disney is changing a lot. The company just released a less-than-impressive earnings report that showed growth in its streaming efforts. But that was very expensive. During the fourth quarter, Disney's streaming business lost $1.5 billion. After a year of slow to bad performance, that report sent Disney's stock tumbling.
Chapek led the company through the pandemic, which was one of the most difficult times in its almost 100-year history. However, Disney decided that Iger was a better choice for the company's future.