Kyle Richards, who has been a fan favorite for a long time, was back on RHOBH when season 12 began in May. Since RHOBH season 1, fans have seen Kyle's happy marriage to Mauricio Umansky. Kyle has been married to her current husband, Mauricio Umansky, for more than 20 years. The OG housewife has talked about many happy times at home on the show.
But before she met Mauricio, Kyle was married to Guraish Aldjufrie, who is now her ex-husband. However, not much is known about the father of her oldest daughter, Farrah Aldjyfrie. Kyle Richards finally talks on The Real Housewives of Beverly Hills about her first marriage to Guraish Aldjyfrie.
The Reasons Behind Kyle Richards's Decision To Divorce Her Ex-Husband Guraish Aldjyfrie
Kyle revealed the reasons that led to her divorce with Guraish Aldjyfrie in a recent BravoTV sneak peek. Guraish has made a few small appearances over the years to celebrate their daughter Farrah's big moments, but not much is known about why they broke up in the early 1990s. 
Kyle told the group, "My ex-husband never got married again, and I feel so bad because he's such a good guy." Kyle, whose style has changed on RHOBH, says that they split up because she wasn't ready for such a big commitment at that time in her life. 
"He loved me. Together, we have a beautiful daughter. I cared for him. And, um, I was just too young to be married," Kyle said. Even though they got divorced so young, she said she still cared about Guraish. "We both put Farrah first all the time," she said.
Also read: Who Is Rosie O Donnell's Girlfriend? Relationship Info!
How Did Kyle Richards And Her Ex-Husband, Guraish Aldjufrie First Meet And Start Dating?
In a previous Juicy Scoop podcast interview with Heather McDonald, Kyle talked about how she met Farrah Aldjufrie's father. Kyle says that when they first met at a Tina Turner concert, she lied about how old she was.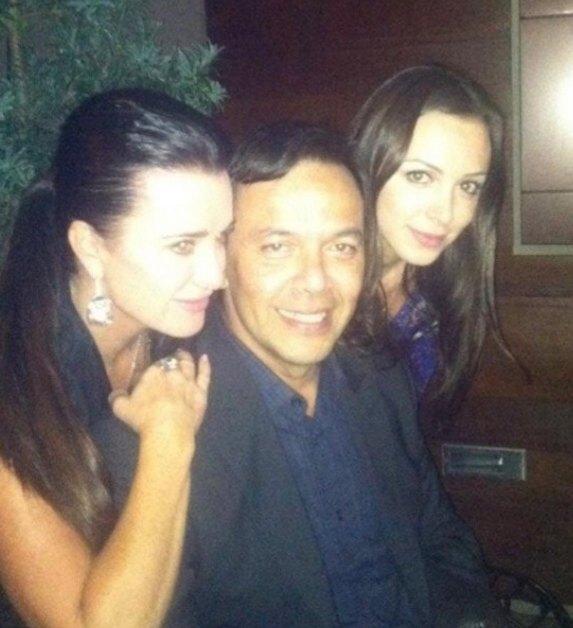 She said, "I lied and said I was 19, and I had braces that I was trying to hide."
They later got married and had their first child. Kyle didn't have to think about it for long before she realized she was "too young to be married."
Kyle said, "At that age, it's hard to be a wife."
Over the years, she and her ex have worked together to raise their daughter, who is now 33 years old.
Also read: Ne-Yo's Wife, Crystal Smith Files For Divorce – Inside Details Of Ne-Yo And Crystal Smith Split!
Kyle Richards And Guraish Aldjufrie Remain Good Friends Even After Divorce
"My ex-husband and I genuinely really care about each other and just because we got divorced doesn't mean that never went away. And we both always put Farrah first." Kyle also gushed that her ex-husband and Mauricio are also "good friends."
In a sentimental post, Farrah wished both Mauricio and Guraish a happy Father's Day. She wrote, "Happy Father's Day to the best dads in the entire world. I count my blessings every day to have such incredible men in my life!"
In November 2016, Farrah's dad was said to live in Bali by Bravo. Farrah told The Daily Dish in 2019 that her dad comes to the U.S. a lot. "I always say that I have two dads because they both brought me up. They get along really well. They've bought and sold homes together, "Farrah mentioned.
"My dad always sends clients to Mauricio. We all get together, and he comes to our house for holidays like Christmas and Thanksgiving "she said.
But because Guraish's digital footprint is almost impossible to find, it is hard to know what he is doing in 2022.