Some celebrity relationships, like the one between Naomi Watts and Billy Crudup, are so low-key that you forget they even happen.
Naomi Watts and Billy Crudup met on set in 2017. Since then, they have kept building a strong bond together. The two actors were in the Netflix show "Gypsy" together.
Their relationship began a year after Watts and Liev Schreiber broke up after 11 years together. The couple is known to keep their relationship pretty quiet. The 2022 SAG Awards in February of this year was the first time they walked the red carpet as a couple.
In this post, we will go through everything you need to know about Naomi Watts and Billy Crudup's relationship.
Billy Crudup And Naomi Watts Made Their Red Carpet Debut At SAG Awards 2022
Naomi Watts and Billy Crudup had been dating for almost four years, but this was the first time they had been seen together on the red carpet.
The 53-year-old star of "King Kong" and the 53-year-old star of "Almost Famous" both wore black to the SAG Awards 2022 step-and-repeat on Sunday night.
Watts looked cool in a glittery Fendi dress and a bob haircut that was straight as a pin. Crudup, meanwhile, looked sharp in a black tux.
Watts puts her arm around her partner with pride in the pictures from the red carpet.
She went to the awards show to support Crudup, who was up for Best Drama Actor for his role as Cory in "The Morning Show." The award went to Lee Jung-Jae, who stars in the hit Netflix drama "Squid Game."
Watts shared photos of the two of them getting ready for the big night. She also shared a selfie from the car ride over with the caption "Go Billy!!
Also read: Who Is Mickey Guyton's Husband? All You Need To Know!
Naomi Watts And Liev Schreiber Ended Their Relationship Following 11 Years Together
Naomi Watts and Liev Schreiber broke up after 11 years of being together. In September 2016, the ex-couple, who share sons Sasha and Kai, announced their split , "Over the past few months, we've come to the conclusion that the best way forward for us as a family is to separate as a couple."
The Mulholland Drive star talked about where things stand between them at the time. "I'm single. Watts told Vogue Australia in 2017 that she was a co-parent. "There are good days and bad days. Liev and I get along great, and we're both trying to do the best we can for the kids. We hope to keep going in this direction. He's a great father and a really great person, and we still want the best for each other. So, I guess that's all I'll say."
After they broke up, the Australian woman and Crudup were rumored to be dating while promoting their Netflix show Gypsy. A source told Us Weekly that the actress's new relationship did not change her relationship with Schreiber as a co-parent.
Also read: Who Is The Cobra Kai's Hannah Kepple Dating?
In August 2017, a source said, "Naomi and Liev get along great." This past weekend, they took their kids to the Hamptons. They are trying very hard to get along for the sake of their children.
Evidently, things are going pretty smoothly between Naomi and Billy as quite recently, she celebrated his birthday in Rome.
Naomi Watts Celebrated Billy Crudup's Birthday With A Rare Selfie
On July 8, Billy's 54th birthday, the Oscar-nominated actress shared a rare photo of the two of them on Instagram. Naomi, who is 53, posted a photo of the two of them in front of the Louvre Museum.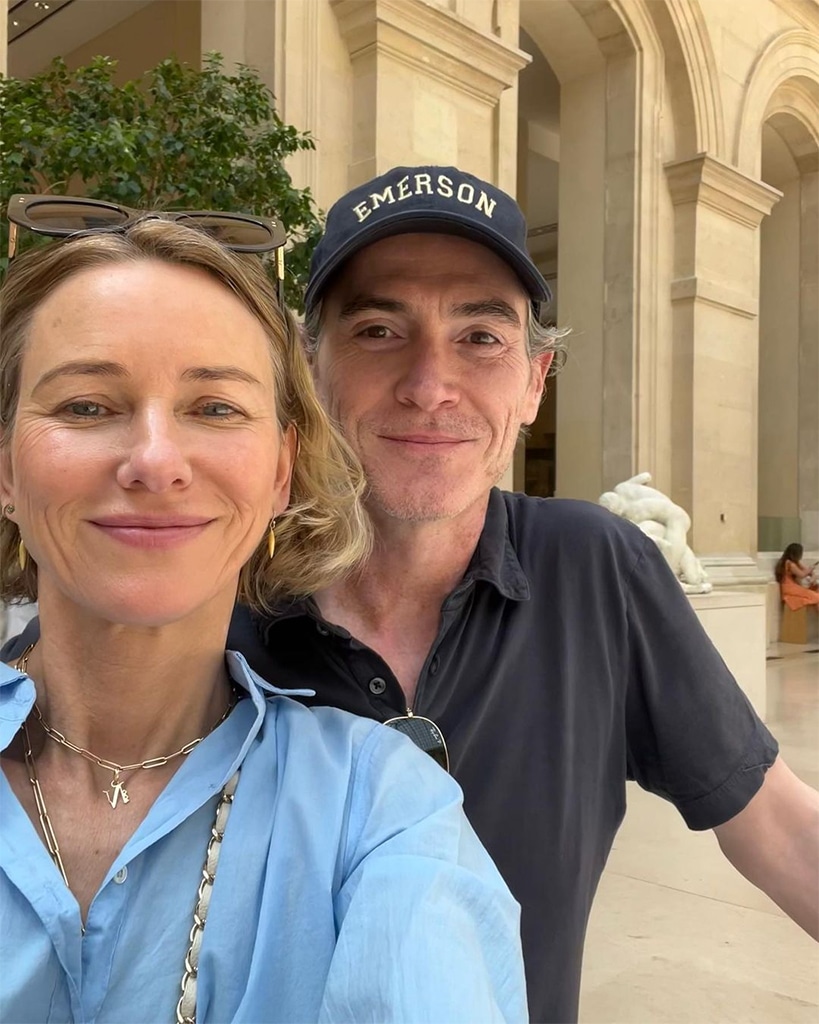 Watts wrote in the post's caption, "Happy Birthday, my love," and added a kissing lips emoji.
In the comments section, celebrities like Chelsea Handler, Julianne Moore, Naomi Campbell, and Rose Byrne sent the couple well wishes.
Naomi also posted more photos from their trip to the French capital on her Instagram Stories. These included a picture of lunch at a restaurant across the street from the museum, a picture of the Crazy Horse Paris saloon, where they saw a cabaret show, and a picture of the Eiffel Tower lit up at night.